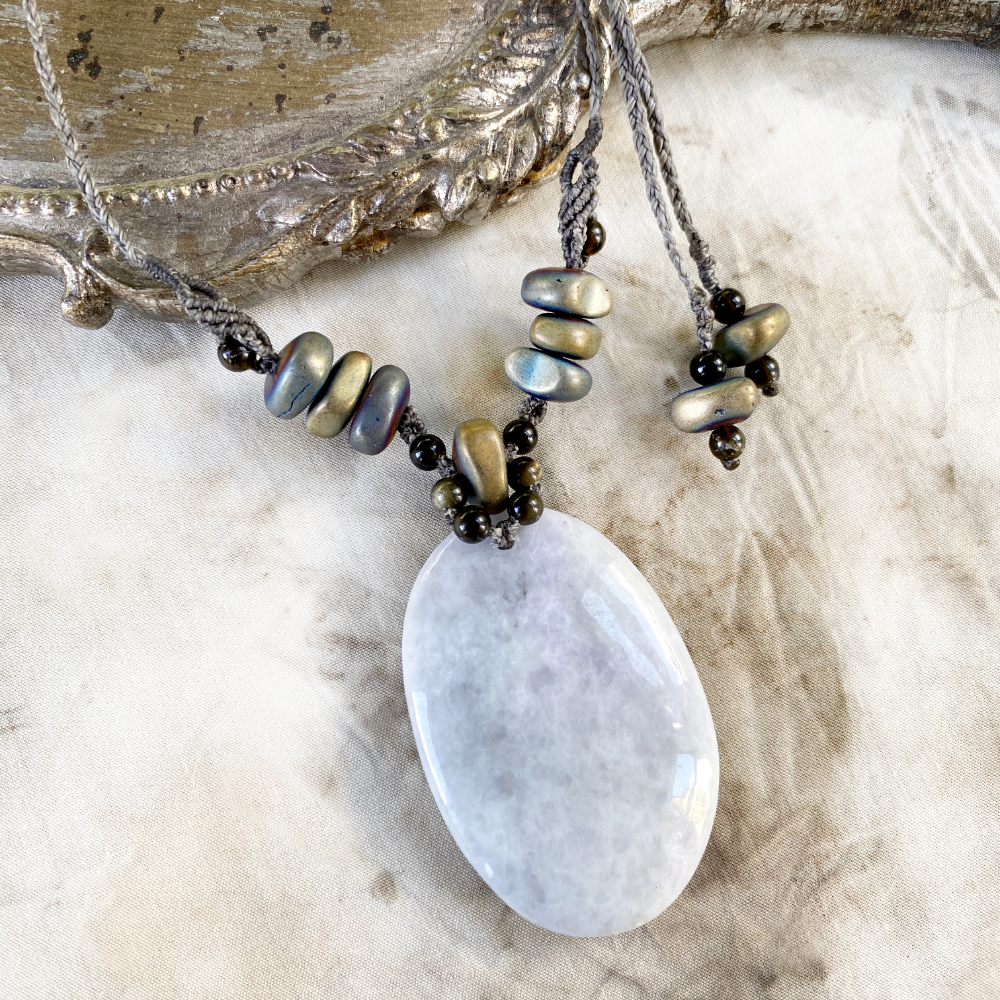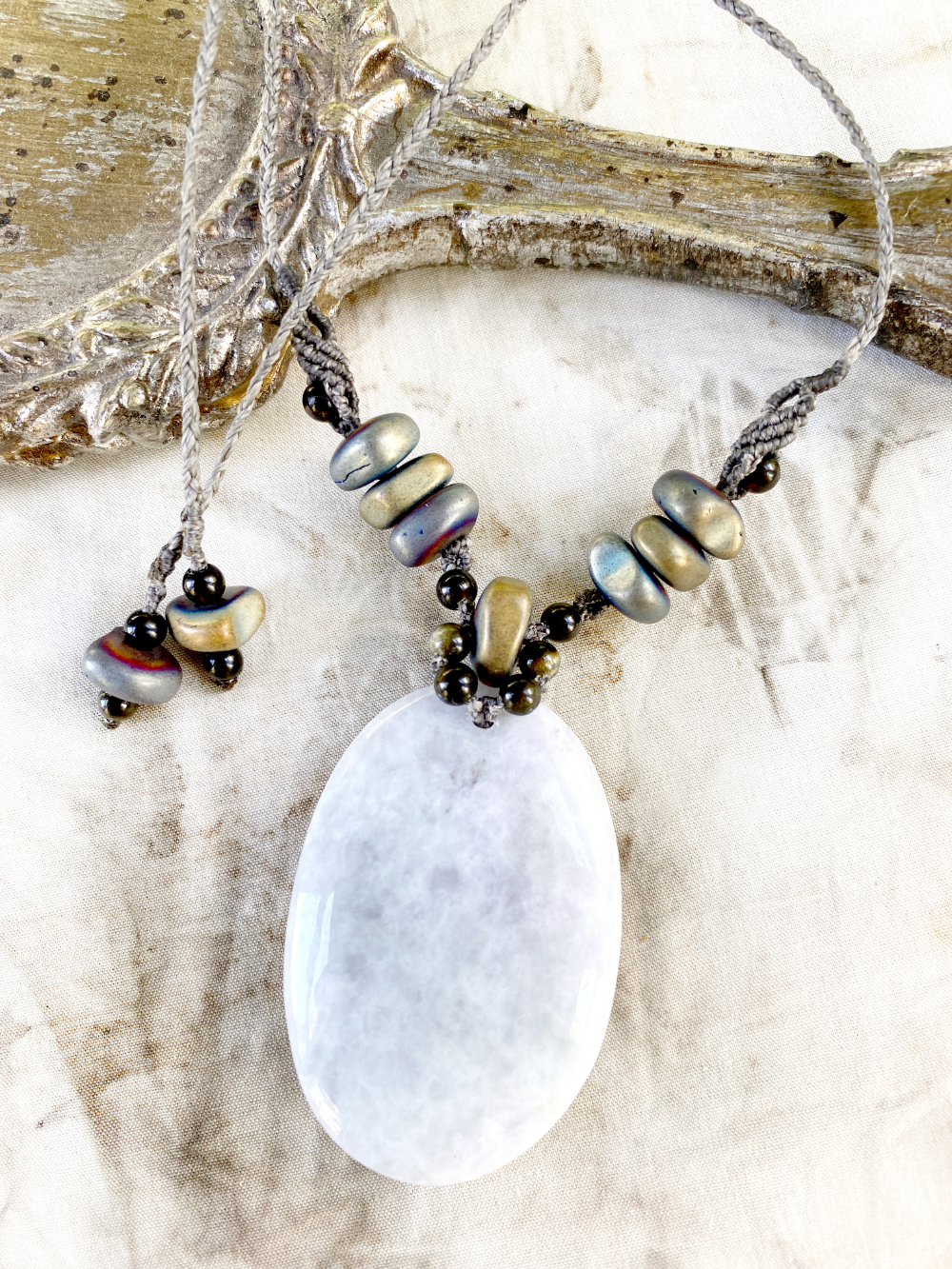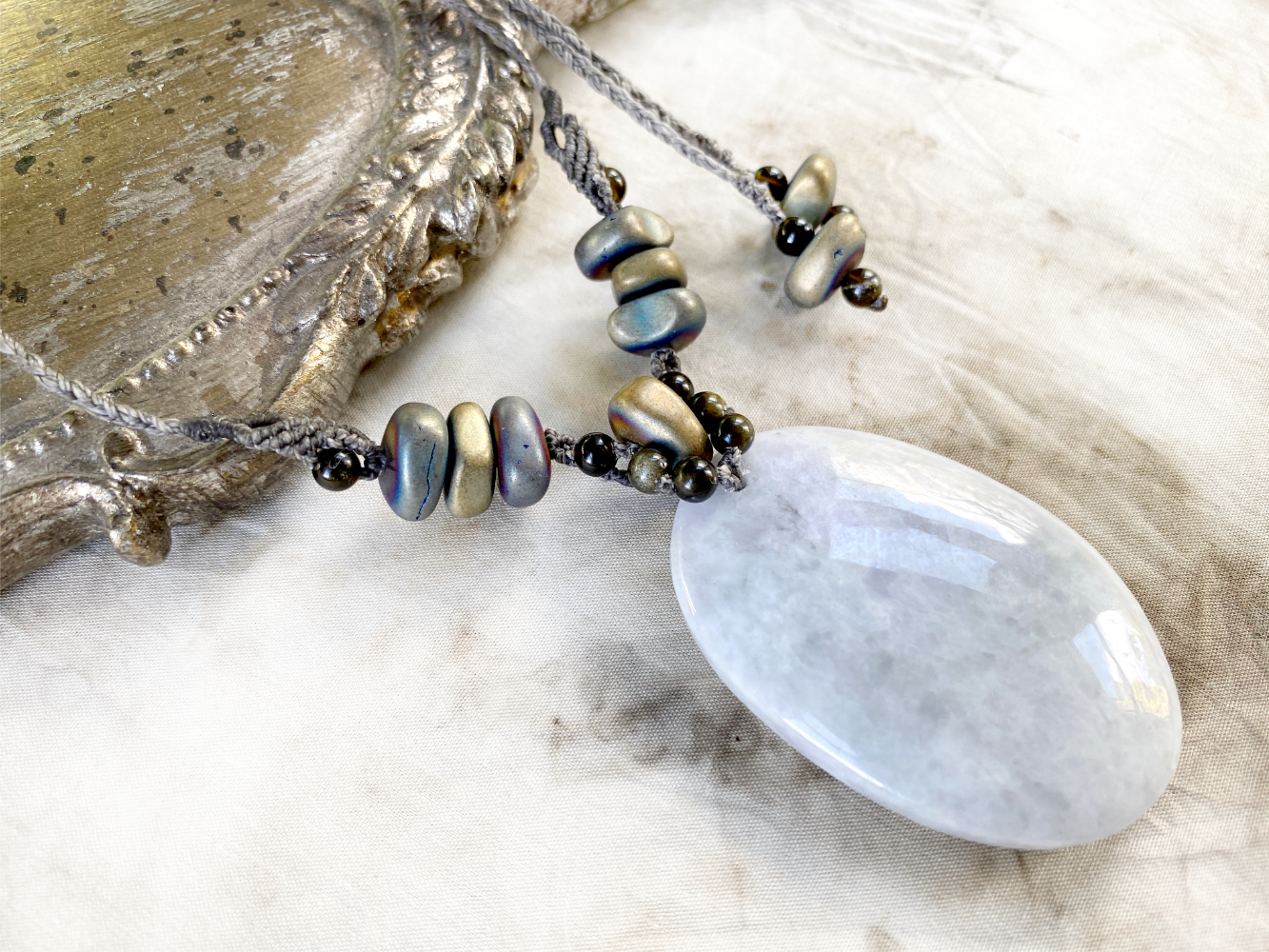 Peace Jade crystal healing amulet
DESCRIPTION
Crystal healing amulet with a large, smooth oval-shaped Peace Jade, combined with Hematite and Golden Sheen Obsidian. On closer inspection the Peace Jade displays subtle tones of purple and green among its otherwise greyish white surface. The necklace is knotted with grey micro-macrame cord. This is a fairly weighty pendant so would be suitable as a statement necklace for anyone who prefers larger amulets. 
The length of the necklace is adjustable from very short down to solar plexus level. The Peace Jade is just over 5 cm (2") tall, approx. 3.5 cm (1.4") at its widest.
You'll receive this crystal healing necklace in one of Spirit Carrier's fabric draw-string pouches, great for the safe-keeping of the necklace. Gift-wrapped at no extra charge.

Read here how to take care of your crystal jewellery.
CRYSTAL PROPERTIES
PEACE JADE
Pure, intensely peaceful vibe which can be easily felt when just holding this stone. Releases internalised stress, allowing you feel serene and in alignment with your core self. Calming when feeling emotionally overwhelmed. Guides you to take that "deep breath" of release to let go of tension and worry. Compassionate heart chakra stone that fills you with divine tranquility.
HEMATITE
Creates a strong sense of self and enhances the creative flow. Relieves stress. Revitalises, enhancing personal magnetism and optimism. Helps in releasing self-imposed limitations to find your own unique gifts. A stone of balance and equilibrium. Grounds when feeling scattered, allows one to maintain a natural alertness while remaining calm.

GOLDEN SHEEN OBSIDIAN
Protective stone that helps one achieve harmony and solve problems relating to past, present and future. Helps in settling inner emotional conflicts and keeps one from entering into outer conflicts so one is free to follow one's spiritual path. Shielding stone that encourages one to stay positive. Transmuting stone to keep negativity at bay. Said to open a window to one's soul and brings out any hidden talents one may have.
Recently Viewed