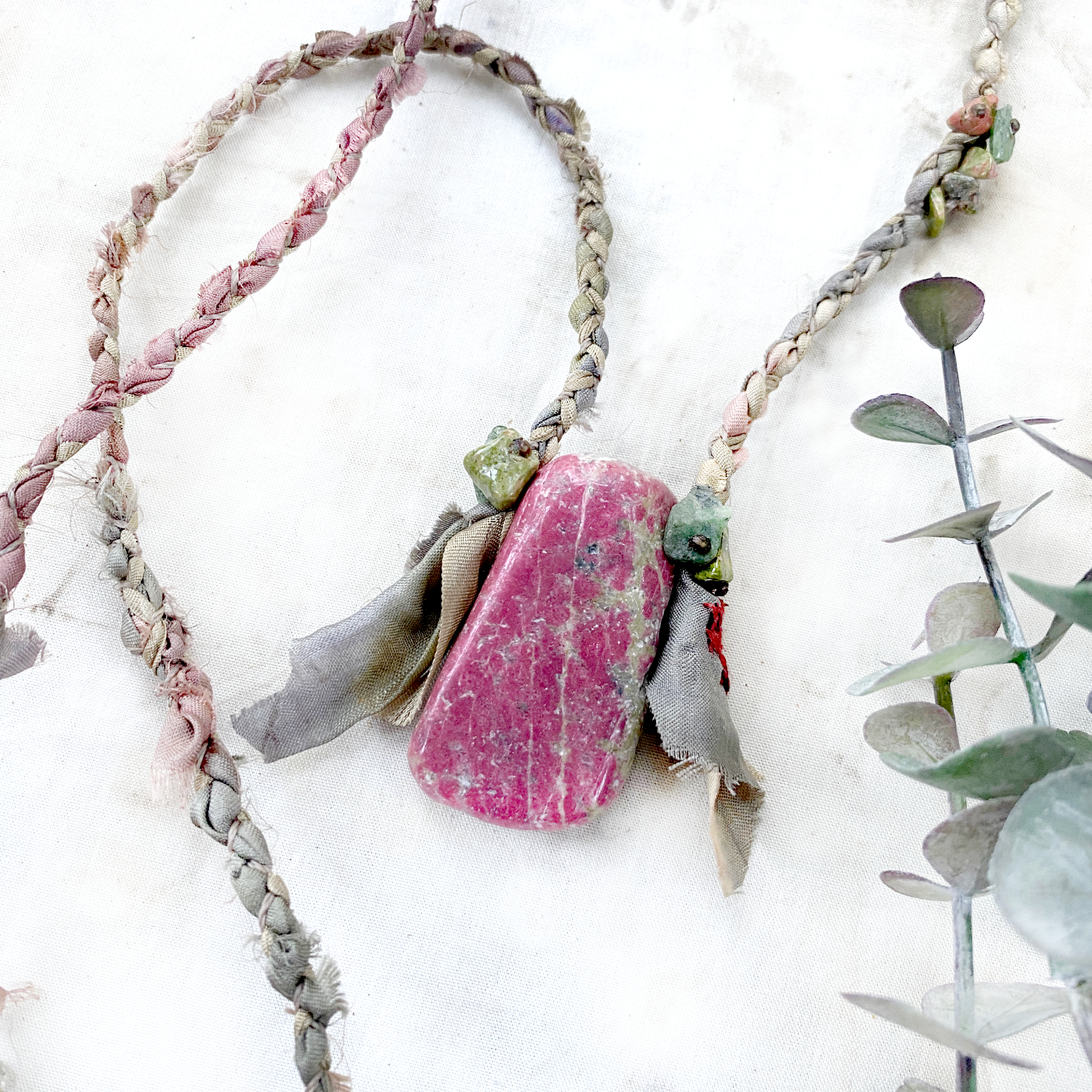 Thulite crystal healing amulet
DESCRIPTION
The centre piece of this crystal healing talisman is a natural, organically shaped Thulite pebble in its characteristic pink tone. The necklace is braided with a combination of recycled sari silk displaying tones of muted pink, green and earthy greys, combined with grey micro-macrame cord for added strength. The talisman is highlighted with rough Kornerupine and Unakite crystals. There is a small floret of these accent crystals also adorning one side of the necklace braid. This is easy-to-wear crystal energy which is bound to become a daily favourite due to the comforting presence of Thulite's vibe.
The necklace braid is set length, allowing the Thulite to hang down approx. 35 cm (14") measured from the back of the neck to the top edge of the stone. The all-around length of the necklace braid is 70 cm (27").
The Thulite is approx. 4 cm (1.6") tall and 2 cm (0.8") at its widest.
There are no metals in this necklace so would be particularly suitable for those with metal sensitivities / metal allergy, energy workers and those who simply prefer not to wear metal.
You'll receive this crystal healing necklace in one of Spirit Carrier's handmade fabric draw-string pouches - great for the safe-keeping of the necklace. Gift-wrapped at no extra charge.

Read here how to take care of your crystal jewellery.

*Ships from England, UK*
CRYSTAL PROPERTIES
THULITE (aka Rosaline)
Thulite is a hug in the form of a stone. Immediately comforting, alleviating emotional suffering and shielding from further pain. Offers an aura of soothing harmony, helping the wearer to express feelings, not react to triggers and to feel safe in emotional softness. Develops flexibility in approaching personal transformations. Fosters independence and optimism when beginning new phases in life.
KORNERUPINE
Assists in breaking down obstacles and removing blockages on one's life path. Helps with stabilising emotions and calms strong feelings. Said to aid in problem solving and in getting to the root of problems. Heart centred stone of unconditional love, increasing one's understanding of the sacred nature of existence. Refines one's character, leading towards positive transformation.
UNAKITE
Emotionally healing, encouraging loving self-acceptance. Clears energy blockages from past hidden emotions, allowing you to radiate love openly, thus attracting love from others. Peaceful stone of connection that encourages harmonious partnerships. Also excellent stone for protecting from electromagnetic fog.
Recently Viewed