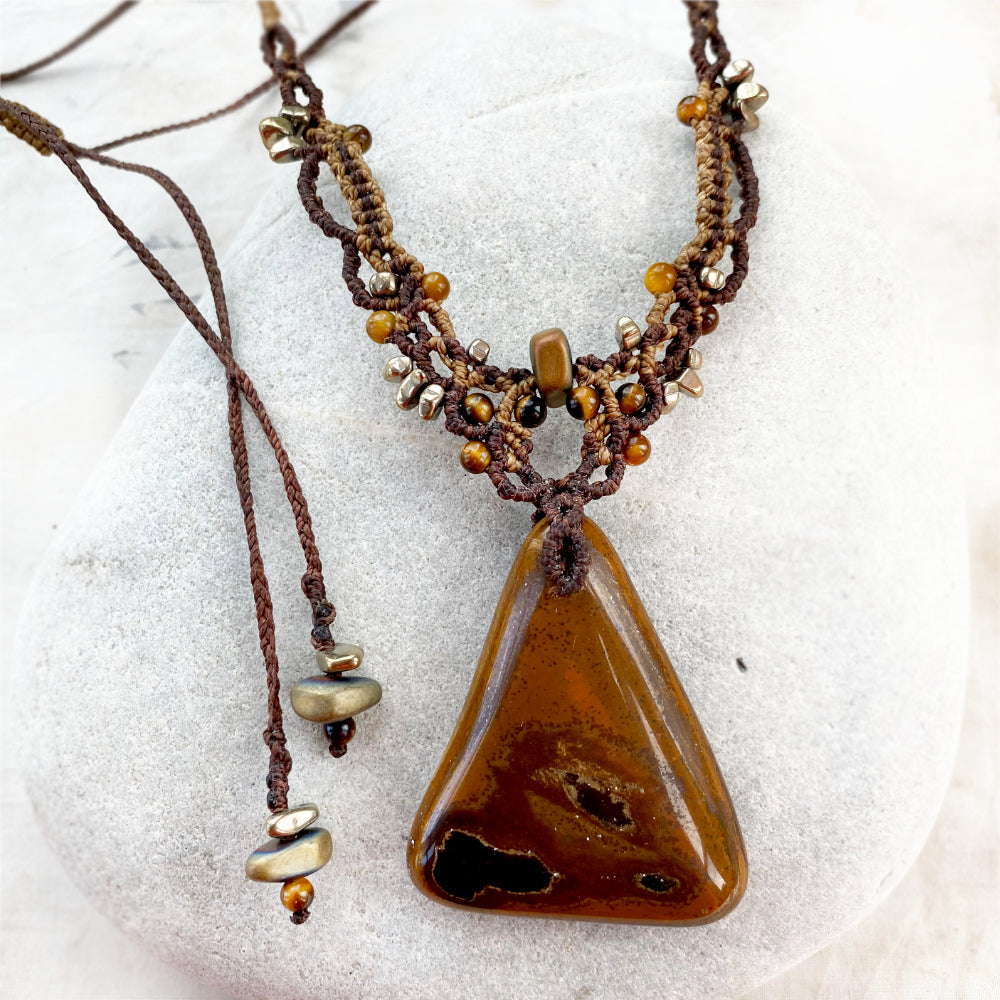 Tiger Eye crystal healing amulet
DESCRIPTION
Crystal healing amulet with a smooth Tiger Eye in close to triangle shape. The necklace is intricately knotted in with two tones of brown micro-macrame cord, highlighted with Hematite crystals.

The natural pattern on this Tiger Eye resembles an aerial view of a terrain, which combined with this stone's energy could be seen to symbolise your courage to forge your own path, having your inner compass to guide you.
The length of the necklace is adjustable from very short down to solar plexus level. The Tiger Eye triangle is quite large at approx. 5 cm (2") tall and 4.5 cm (1.8") wide at its base edge.
You'll receive this crystal healing necklace in one of Spirit Carrier's fabric draw-string pouches, great for the safe-keeping of the necklace. Gift-wrapped at no extra charge.

Read here how to take care of your crystal jewellery.
CRYSTAL PROPERTIES
TIGER EYE
Powerful stone to connect with one's personal strength. Excellent for attracting prosperity. Highly spiritual energy, useful in understanding any life cycle that one is living through. Helps in seeing through illusions and discerning the truth in any situation. A highly protective stone. Good for strengthening one's boundaries and developing will power and courage.
HEMATITE
Creates a strong sense of self and enhances the creative flow. Relieves stress. Revitalises, enhancing personal magnetism and optimism. Helps in releasing self-imposed limitations to find your own unique gifts. A stone of balance and equilibrium. Grounds when feeling scattered, increases alertness and vigilance.
Recently Viewed