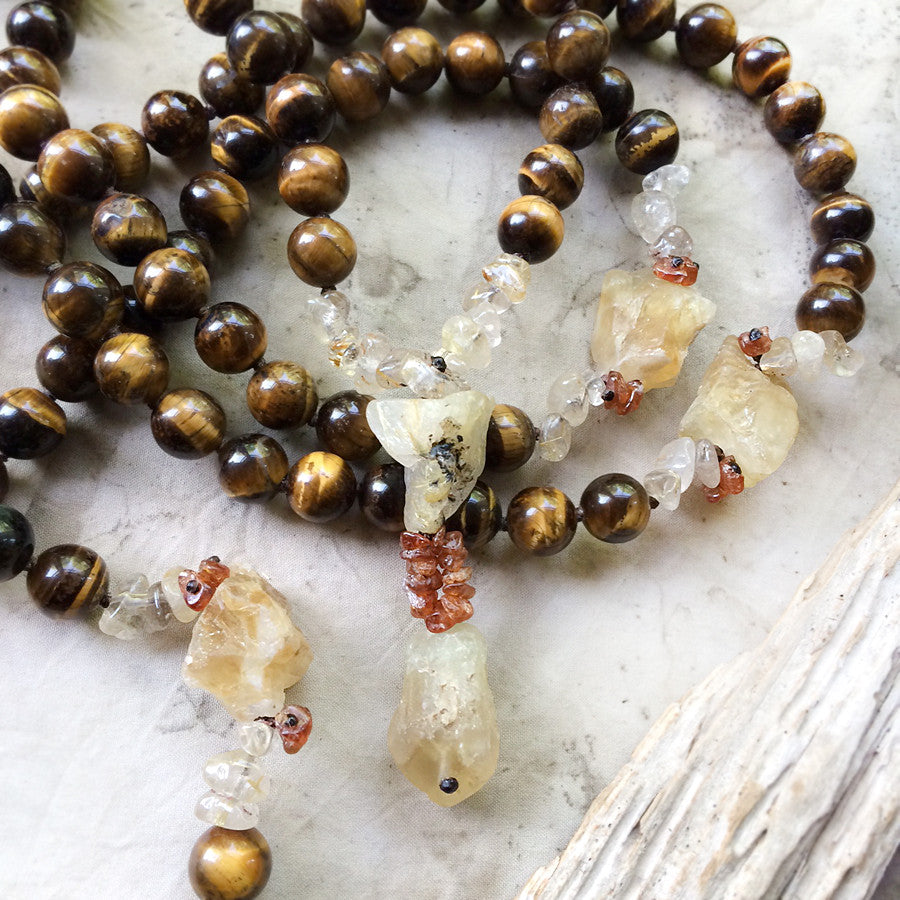 Tiger Eye mala with Citrine, Gold Rutile Quartz & Spessartine Garnet
DESCRIPTION
One of a kind, contemporary 108 bead meditation mala with Tiger Eye counter beads. The three dividers are a combination of Citrine, Gold Rutile Quartz and Spessartine Garnet. The guru bead also consists of Gold Rutile Quartz, Spessartine Garnet and Citrine.
Each counter bead is knotted one by one for durability and ease of handling, using dark brown micro-macrame cord. 
All around length of mala: 134 cm (52.75")
Counter bead diameter: 1 cm (0.4")
The width of the divider combination: 4 cm (1.6")
Length of guru bead crystal combination: 5.5 cm (2.2")
This mala comes in one of my handmade soft brown leather pouches for safe-keeping (and gift-wrapped for no extra charge). If you would rather have a fabric pouch, please let me know at the time of purchase.
Read more about Spirit Carrier mala beads
CRYSTAL PROPERTIES
TIGER EYE
A power stone for attracting prosperity. But it has also a highly spiritual energy and is helpful in understanding any life cycle that one is living through. It helps in seeing through illusions, in discerning the truth in any situation. A highly protective as well as grounding stone.
CITRINE
Affects a powerful alignment with the higher self. Balances the emotions and helps in uplifting one's mood to be more sunny and cheerful. Brings clarity of thought, and attracts abundance through joy. Powerful transformer in healing work. Increases self-confidence and optimism, cleanses the surrounding energies and promotes creative thinking. Releases, dissipates and transforms denser energies on all levels, mental, emotional and physical. Works to release limitations and blockages particularly around the sacral / solar plexus area.
GOLD RUTILE QUARTZ
A master assistant in self-discovery, a companion in finding one's inner truth, purpose and destiny. Joyful and energising. Thought to offer protection against psychic attacks and help in healing karmic issues. Gold Rutile Quartz is thought to be helpful in manifesting one's dreams into reality.
SPESSARTINE GARNET
Elevates mood and allows experiences of 'emotional sunshine' into one's life, thus making life more fulfilling. Helps in overcoming the fear of new experiences, encouraging you to live more spontaneously. Balances and vitalises the sacral chakra, supporting creative pursuits and intuition.
Recently Viewed