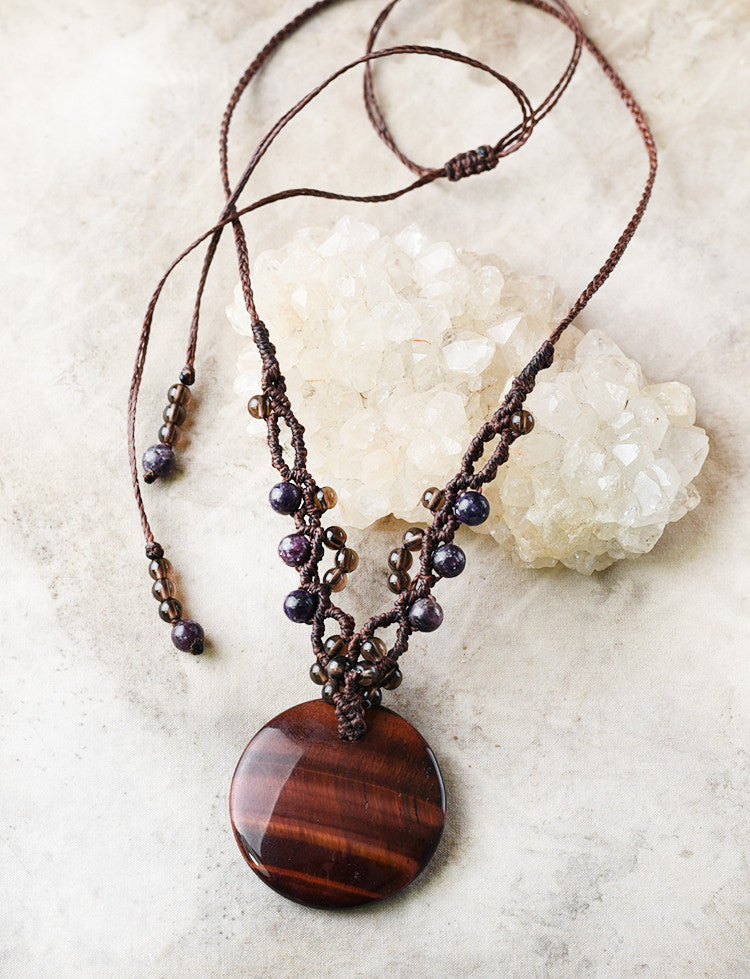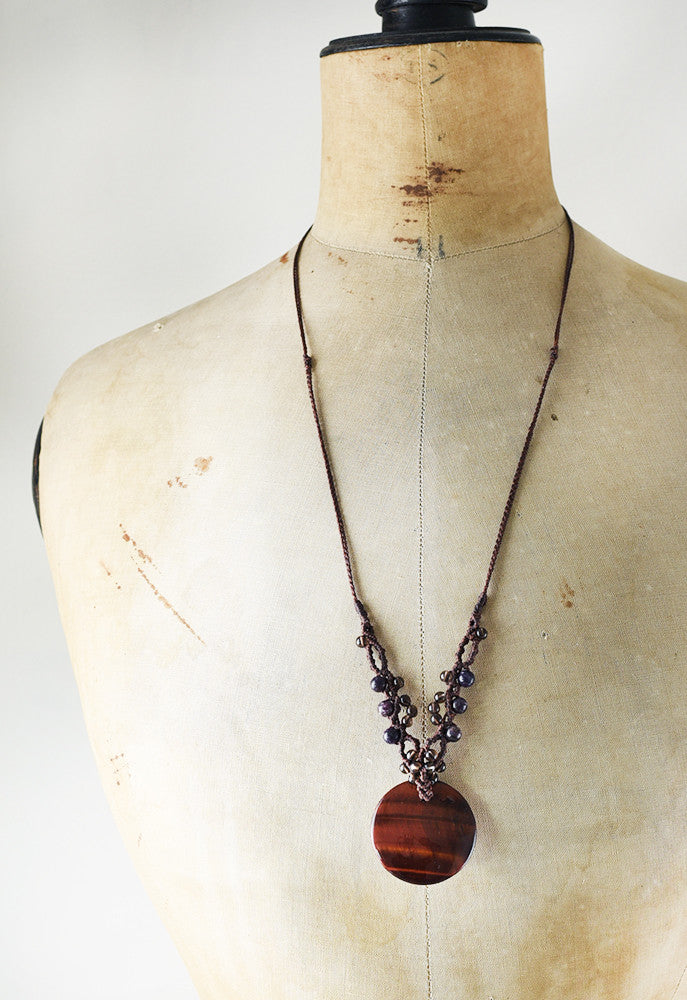 Tiger Iron crystal amulet with Lepidolite & Smokey Quartz
DESCRIPTION
Smooth, polished Tiger Iron in circular shape, showing beautifully this stone's characteristic veins of deep red with some brighter highlights. The necklace is knotted and braided with dark brown micro-macrame cord, combined with deep purple Lepidolite and small Smokey Quartz crystals.
The length of the necklace is adjustable from very short down to solar plexus level. The Tiger Iron diameter is just under 4 cm (1.5").
You'll receive this crystal healing necklace in one of my fabric draw-string pouches, great for the safe-keeping of the necklace. Gift-wrapped at no extra charge.
CRYSTAL PROPERTIES
TIGER IRON
A stone of vitality, confidence and motivation, bringing energy and strength. Beneficial for empaths who may easily feel drained from taking on other people's emotions. A creativity stone that assists in bringing out one's hidden talents.
LEPIDOLITE
An open, inviting stone, offering its gentle love readily when you just hold it in your hand. Useful in reducing depression and stress, it can assist in moving calmly through life transitions. In crystal healing practice, Lepidolite has been used to ease emotional traumas, panic attacks and addictions. Lepidolite is said to help you to nurture yourself and be optimistic, and to clear out ties to the past, assisting you in moving freely forward in joy and happiness.
SMOKEY QUARTZ
A grounding and calming stone that elevates moods and dissipates negative emotions. "A Stone of Serenity", it is comforting and protective for one's aura. Smokey Quartz is thought to assist in creative endeavours and also in setting personal boundaries. Offers protection against electromagnetic rays. A good healing stone for improving general feeling of well-being. Relieves anxiety and worry, wards off confusion. Shielding crystal to create a calm, safe environment.
Recently Viewed