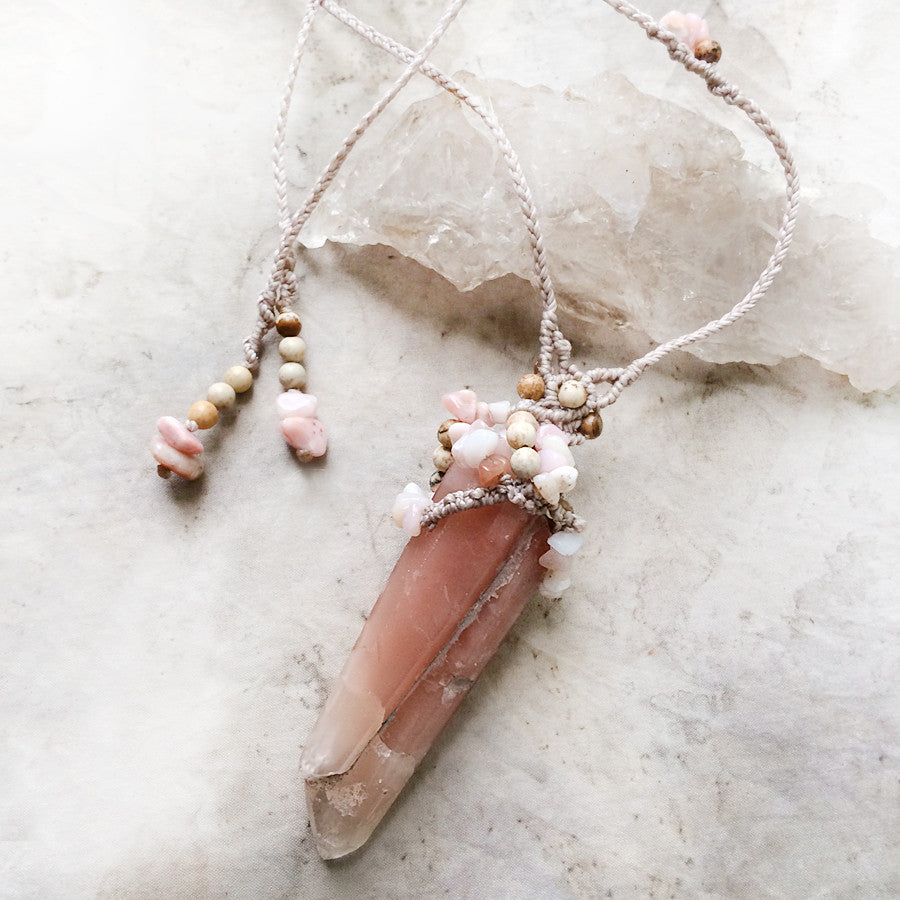 'Togetherness' ~ crystal amulet with twin point Hematoid Quartz
DESCRIPTION
Crystal healing amulet with a twin point Hematite included Quartz. The top of the crystal is clustered with Peruvian Pink Opal and Picture Jasper crystals, joining on to a minimally braided necklace of light beige micro-macrame cord. There's also a floret of crystals adorning one side of the necklace braid, and the same crystals are also decorating the ends of the adjustable necklace cords.
The length of the necklace is adjustable from very short down to solar plexus level. The twin Quartz point is approx. 6.5 cm (2.6") tall and 2 cm (0.8") wide at its middle.
There are no metals in this necklace so would be particularly suitable for those with metal sensitivities, energy workers and those who simply prefer not to wear metal.
You'll receive this crystal healing necklace in one of my fabric draw-string pouches, great for the safe-keeping of the necklace. Gift-wrapped at no extra charge.
CRYSTAL PROPERTIES
HEMATOID QUARTZ (Hematite included Quartz)
Supports self-esteem, self-confidence, courage and will power. Grounding and balancing energy, easing fears and worries. Highly protective, helps in maintaining your auric shield. Grounds higher spiritual energy into the body, enabling you better manifest your dreams into reality.
PERUVIAN PINK OPAL
Stone of peace and tranquility for one's aura. Helps in healing painful memories. Stone of hope and renewal. A good stone to help inner healing on the emotional, physical and intellectual levels. Cleanses and purifies mind and heart.
PICTURE JASPER
Associated with expanded creativity, visions, invention and initiative. Helps in grounding ideas into reality. Believed to contain hidden messages from the past. Nurturing and harmonious, it also offers psychic protection during shamanic journeying as well as activates the third eye chakra. Inspires creative visualisation and is excellent for overcoming any creative blocks. Good confidence stone, particularly helpful in business pursuits.
Recently Viewed