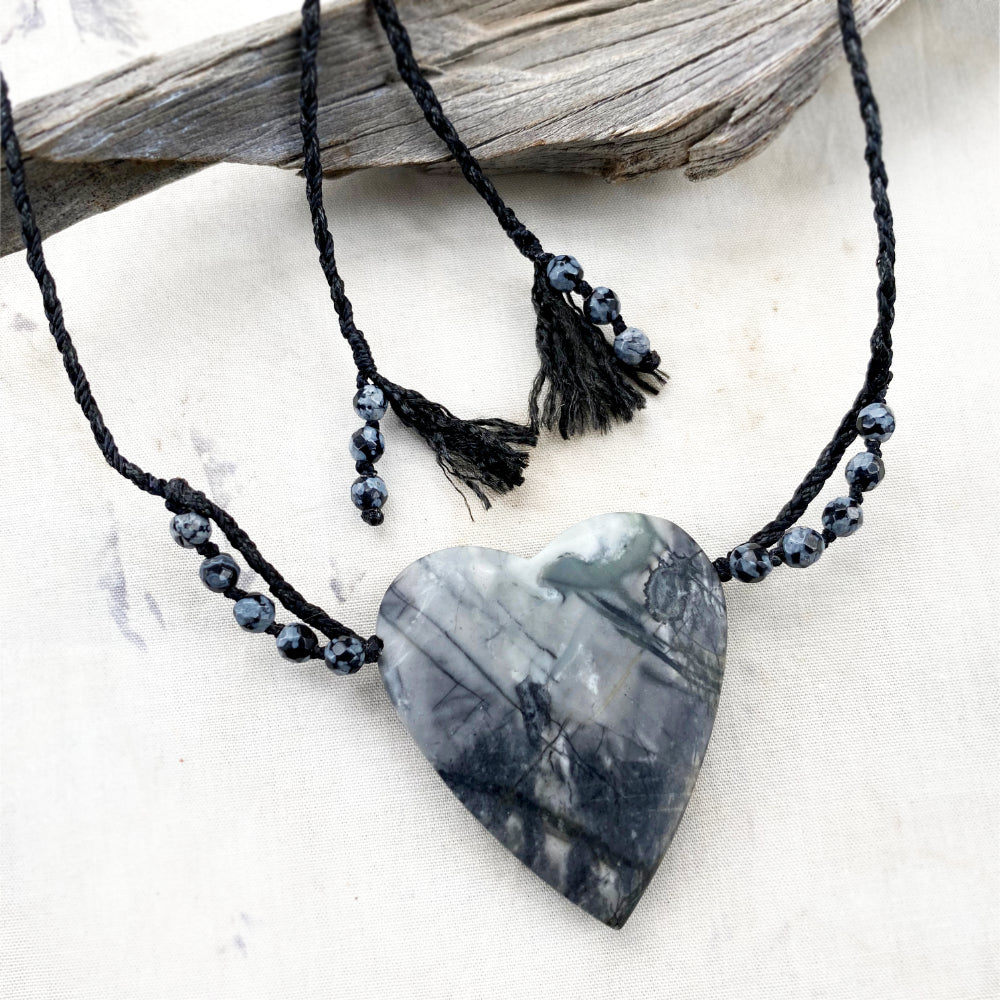 'Tranquility' ~ crystal healing amulet with Picasso Jasper
DESCRIPTION
Gentle crystal healing amulet in neutral tones, with a polished Picasso Jasper heart in grey hues. The necklace is braided with black satin and black micro-macrame cord, highlighted with small faceted Snowflake Obsidian crystals with matching details at the ends of the adjustable necklace cords.
The length of the necklace is adjustable from as short as you wish down to solar plexus level, by pulling the ends of the necklace braids through a knotted channel. The Picasso Jasper heart is approx. 4 cm (1.8") tall and approx. 3.5 cm (1.4") at its widest.
There are no metals in this necklace so would be particularly suitable for those with metal sensitivities, energy workers and those who simply prefer not to wear metal.
You'll receive this crystal healing necklace in one of Spirit Carrier's fabric draw-string pouches, great for the safe-keeping of the necklace. Gift-wrapped at no extra charge.
Prior to leaving Spirit Carrier studio, all crystals are energy cleansed, balanced and activated for the highest good of their new keeper. 

Read here how to take care of your crystal jewellery.
CRYSTAL PROPERTIES
GREY PICASSO JASPER
Calming and harmonious, bringing clarity and inner awareness. Increases perseverance and self-control. Sooths and balances emotions. Assists in making decisions according to one's life purpose. Offers stability in times of change. Among the best all-round supportive healing stones to wear daily.
SNOWFLAKE OBSIDIAN
Promotes a sense of calm and inner equilibrium, bringing balance to body, mind and spirit. A grounding, protective stone. Eases worries and when carried/worn helps one to stay balanced and centred throughout the day. Native American shamans often carried Snowflake Obsidian as a powerful talisman to avert evil and bring good fortune, also considering it to be the guardian of the Great Spirit.
Recently Viewed