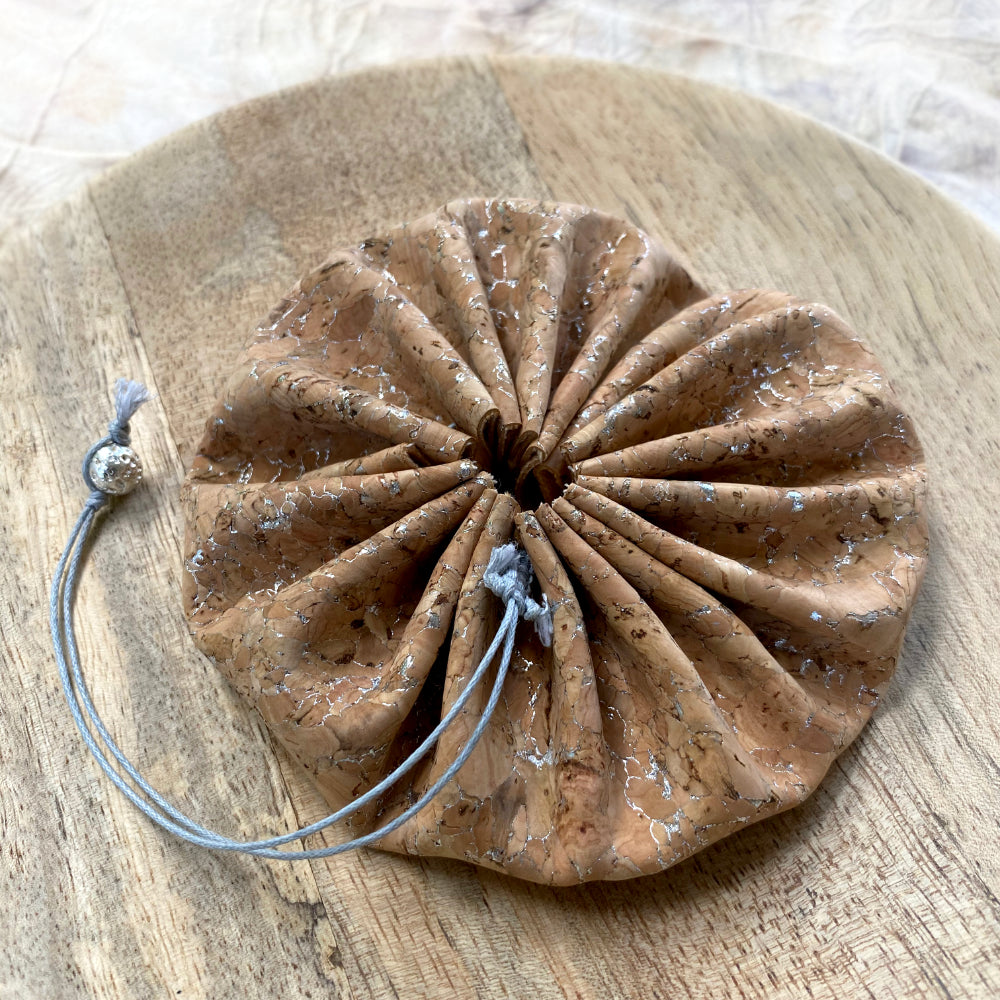 Travel pouch with four crystals
DESCRIPTION
A draw-string cork ('vegan leather') travel pouch with grey string and a silver-coated Lava Stone bead stopper. Containing four crystals: Sichuan double-terminated Quartz (with divided point in one end), Aegirine (with some Chlorite coating), polished Labradorite heart and Smokey Quartz (with fused smaller point along the surface). There is further space in the pouch to add more crystals for you to take on your travels. Pouch diameter when empty and closed: 10 cm (4").
While waiting their turn to journey on to their new keepers from the Spirit Carrier studio, some crystals gravitate together, forming pairs or small groups. The bond between these crystals tends to be so strong that it would feel wrong to allow them go separately. If the dynamics of this quartet calls for you, ponder how this crystal energy support may relate to your path ahead at this time, as it is coming to you for a purpose. 

You can use these to handle and play with while travelling, meditate with them either together or with each in turn, include in crystal grids or add more crystals from your own collection to make larger grids. Keep in your handbag and perhaps enjoy once in a while swapping your cell phone to handling crystals instead...
The crystal's largest/longest dimension for reference:
Sichuan double-terminated Quartz - approx. 4 cm (1.6")
Aegirine - approx. 4 cm (1.6")
Labradorite heart - approx. 4 cm (1.6")
Smokey Quartz - approx. 5 cm (2")
You'll receive these crystal treasures safely padded for the postal journey and gift-wrapped at no extra charge.
~

SICHUAN QUARTZ
Spiritually attuned to the white flame of pure consciousness, activating the crown and the third eye chakras. Aligns all the energy bodies, bringing forth a meditative state, peace and present moment awareness. Expands your consciousness and opens up psychic channels. Releases old, stagnant emotions, cleanses one's auric field and releases negative thoughts. Emanates a strong "OM" vibration. Can be used to intensify attainments, find out about karmic lessons and to bring deep healing for all levels of being. Double-terminated Sichuan Quartz brings powerful spiritual protection and purification. (DOUBLE-TERMINATED QUARTZ - Due to a point in both ends, energy flows freely to both directions through this crystal, offering a sense of 'flow' in life. Particularly useful when working to help other people, or when doing healing work on oneself. Excellent for balancing and aligning the chakras. Can be used as a bridge between any two things, such as spirit and matter for example.)
AEGIRINE (also Aegerine)
Highly protective by sealing your energetic space against intrusion. Helps in finding the courage to shine one's inner light into the world. A stone of confidence and strength. Effective in breaking away negative attachments from one's etheric body. CHLORITE on Aegirine is a powerful energy purifier, aiding connection with high vibrational energies
LABRADORITE
One of the most powerful, versatile crystal tools for healing. Creates an auric shield and strengthens your innate energy and life force, preventing energy leakages. Enhances intuitive abilities and assists in spiritual transformation. Helps the wearer align with their highest destiny and discover their inner worth. Strengthens willpower and brings in new ideas. Often referred to as the 'Stone of Destiny', believed to help you to find your true path in life, and as 'Temple of the Stars', anchoring higher dimensional light into your being.
SMOKEY QUARTZ
A grounding and calming stone that elevates moods and dissipates negative emotions. "A Stone of Serenity", it is comforting and protective for one's aura. Smokey Quartz is thought to assist in creative endeavours and also in setting personal boundaries. Offers protection against electromagnetic rays. A good healing stone for improving general feeling of well-being. Relieves anxiety and worry, wards off confusion. Shielding crystal to create a calm, safe environment.
Recently Viewed