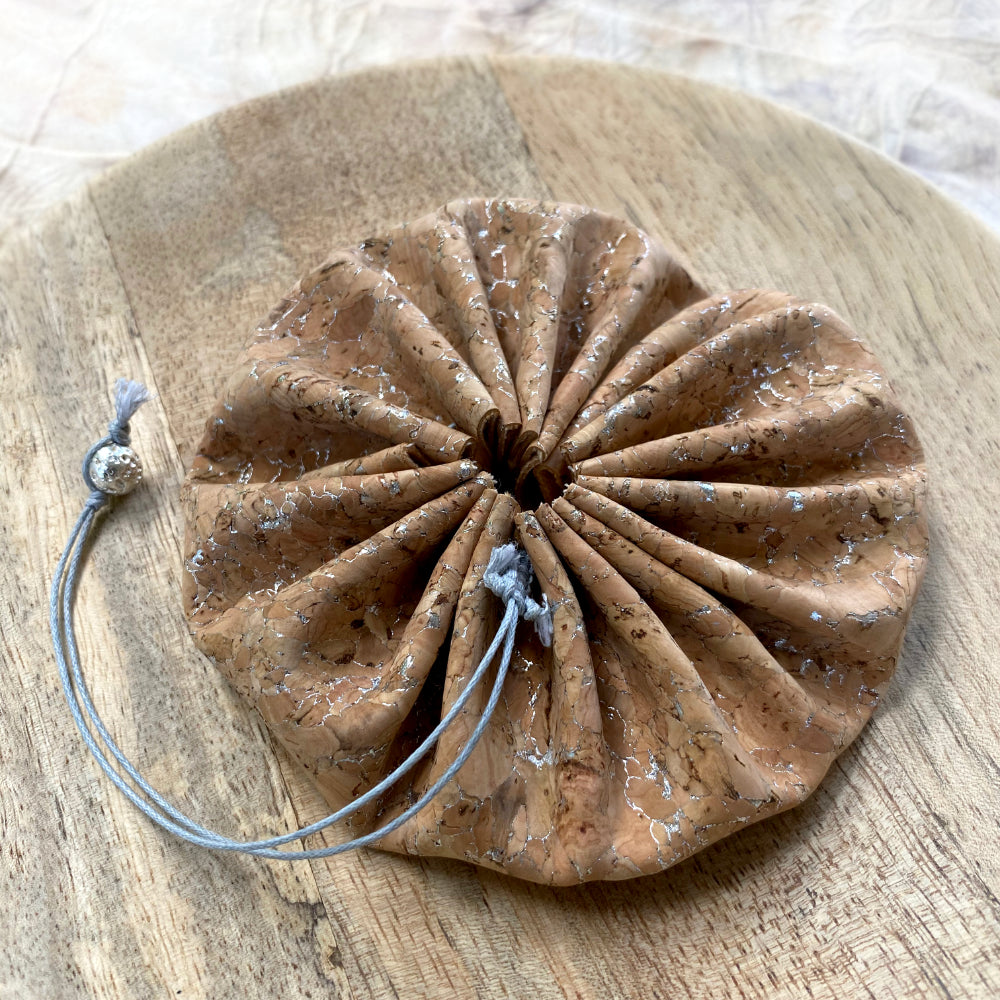 Travel pouch with three crystals
DESCRIPTION
A draw-string cork ('vegan leather') travel pouch with grey string and a silver-coated Lava Stone bead stopper. Containing three crystals: Pink Peruvian Opal and Agate geode (two halves). There is further space in the pouch to add more crystals for you to take on your travels. Pouch diameter when empty and closed: 10 cm (4").
While waiting their turn to journey on to their new keepers from the Spirit Carrier studio, some crystals gravitate together, forming pairs or small groups. The bond between these crystals tends to be so strong that it would feel wrong to allow them go separately. If the dynamics of this trio calls for you, ponder how this crystal energy support may relate to your path ahead at this time, as it is coming to you for a purpose. 

You can use these to handle and play with while travelling, meditate with them either together or with each in turn, include in crystal grids or add more crystals from your own collection to make larger grids. Keep in your handbag and perhaps enjoy once in a while swapping your cell phone to handling crystals instead...
The crystal's largest/longest dimension for reference:
Pink Peruvian Opal - approx. 5 cm (2")
Agate Geode - approx. 5 cm (2") each half
You'll receive these crystal treasures safely padded for the postal journey and gift-wrapped at no extra charge.
~

PERUVIAN PINK OPAL
Stone of peace and tranquility for one's aura. Helps in healing painful memories. Stone of hope and renewal. A good stone to help inner healing on the emotional, physical and intellectual levels. Cleanses and purifies mind and heart.
AGATE GEODE
Calms and strengthens body and mind. Soothing, instilling one with courage. Enhances creativity and stimulates the intellect. Great for increasing one's sense of self-worth and self-acceptance. Protective, grounding, purifying. Wonderful healing support for anything to do with feminine energies.
Recently Viewed