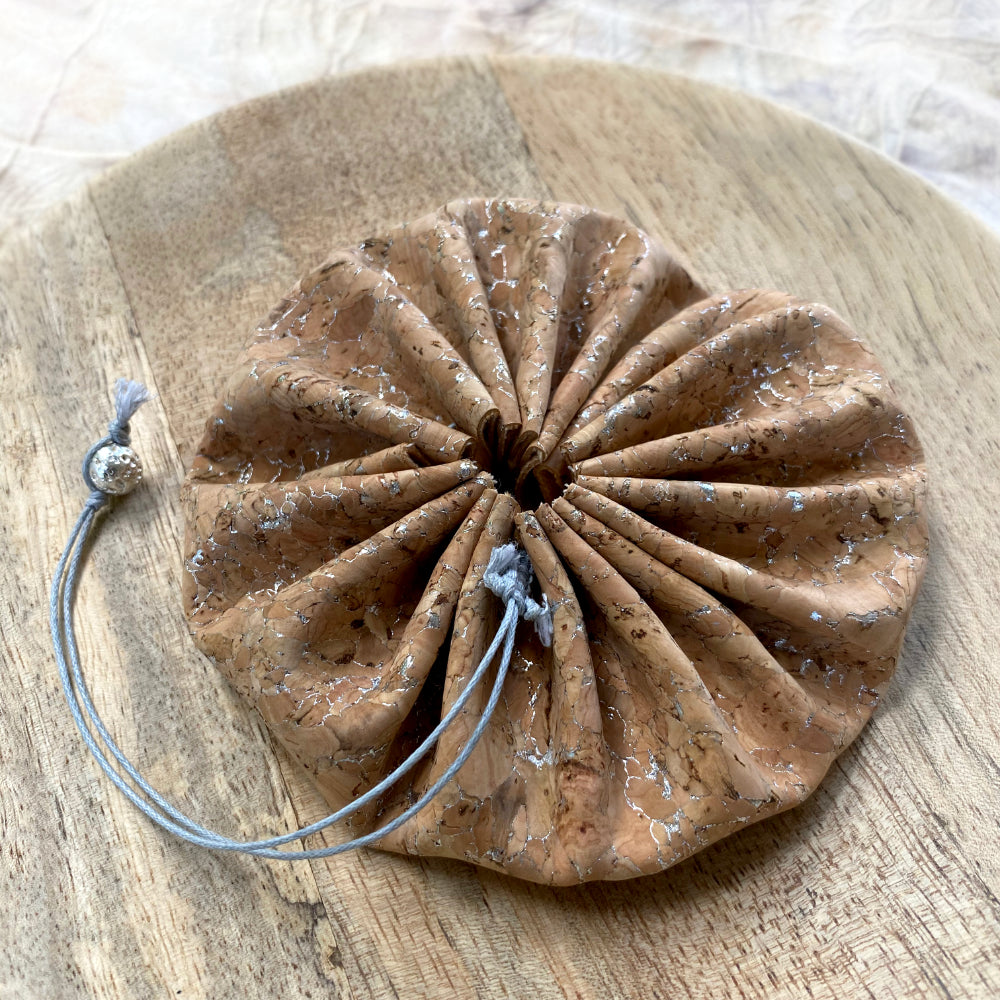 Travel pouch with three crystals
DESCRIPTION
A draw-string cork ('vegan leather') travel pouch with grey string and a silver-coated Lava Stone bead stopper. Containing three crystals: Snakeskin Agate, Moroccan Desert Sandstone and Staurolite. There is further space in the pouch to add more crystals for you to take on your travels. Pouch diameter when empty and closed: 10 cm (4").
While waiting their turn to journey on to their new keepers from the Spirit Carrier studio, some crystals gravitate together, forming pairs or small groups. The bond between these crystals tends to be so strong that it would feel wrong to allow them go separately. If the dynamics of this trio calls for you, ponder how this crystal energy support may relate to your path ahead at this time, as it is coming to you for a purpose. 

You can use these to handle and play with while travelling, meditate with them either together or with each in turn, include in crystal grids or add more crystals from your own collection to make larger grids. Keep in your handbag and perhaps enjoy once in a while swapping your cell phone to handling crystals instead...
The crystal's largest/longest dimension for reference:
Snakeskin Agate - approx. 4.5 cm (1.8")
Moroccan Desert Sandstone - approx. 4.5 cm (1.8")
Staurolite - approx. 4.5 cm (1.8")
You'll receive these crystal treasures safely padded for the postal journey and gift-wrapped at no extra charge.
~

SNAKESKIN AGATE
Stone of strength and inner peace. Increasing one's love of life, vitality and sense of purpose. Reduces the tendency to worry. Known as a support stone for initiating the rise of kundalini, one's life force energy. In folklore, said to help find lost things and to help its keeper blend into the crowd and appear invisible when needed.
MOROCCAN DESERT SANDSTONE
Ancient sand concretion stone, a powerful ally for shamanic journeying. Visionary stone that allows you to explore your ancestral timelines in all directions. Protective companion stone keeping you centred in the moment while bringing in wisdom from higher dimensions. Activates third eye and crown chakra, increasing the level of your intuition. Assists in overcoming subconscious fears and blockages on your life path. Awakens your inner courage to find a way in any situation.
STAUROLITE (aka Fairy Cross Stone)
Known since ancient times as a good luck amulet, said to protect against disease and accidents. Soothing and calming, great for relieving stress and anxiety. A good grounding stone for spiritual people. Facilitates deeper connection with the natural world.  Helps one to accept and receive unconditional love. Thought to help with letting go of unhealthy addictions such as smoking. Assists in using your time well, finding lost objects and having lucid dreams. Encourages you to receive blessings and share unconditional love with others.
Recently Viewed