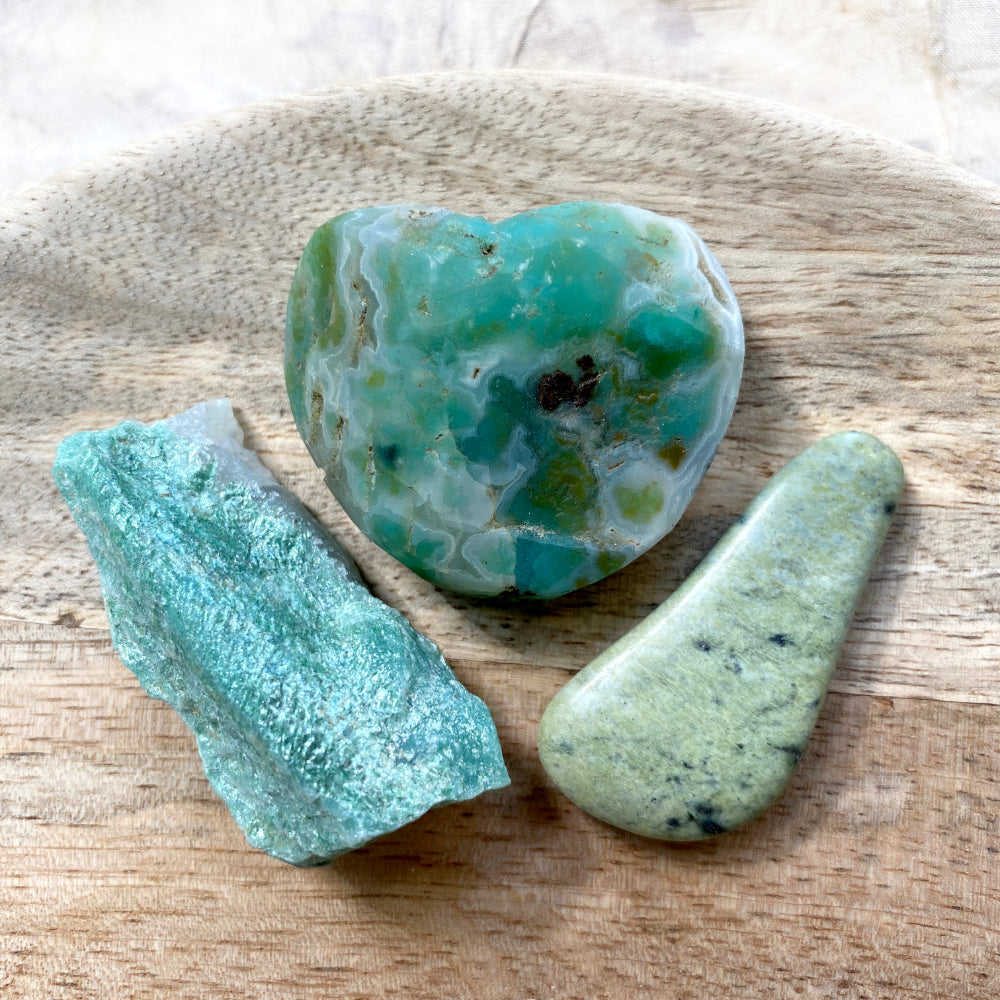 Travel pouch with three crystals
DESCRIPTION
A draw-string cork ('vegan leather') travel pouch with grey string and a silver-coated Lava Stone bead stopper. Containing three crystals: Fuchsite, Chrysocolla and Serpentine. There is further space in the pouch to add more crystals for you to take on your travels. Pouch diameter when empty and closed: 10 cm (4").
While waiting their turn to journey on to their new keepers from the Spirit Carrier studio, some crystals gravitate together, forming pairs or small groups. The bond between these crystals tends to be so strong that it would feel wrong to allow them go separately. If the dynamics of this trio calls for you, ponder how this crystal energy support may relate to your path ahead at this time, as it is coming to you for a purpose. 

You can use these to handle and play with while travelling, meditate with them either together or with each in turn, include in crystal grids or add more crystals from your own collection to make larger grids. Keep in your handbag and perhaps enjoy once in a while swapping your cell phone to handling crystals instead...
The crystal's largest/longest dimension for reference:
Fuchsite - approx. 5 cm (2")
Chrysocolla heart - approx. 4.5 cm (1.8")
Serpentine - approx. 4.5 cm (1.8")
You'll receive these crystal treasures safely padded for the postal journey and gift-wrapped at no extra charge.
~

FUCHSITE
Known as the Healer's Stone, particularly useful for those who help others by taking too much responsibility for anyone else's healing. Fuchsite helps anyone in its vicinity to take charge of their own life path. Radiant energy that improves one's resilience and sense of self-worth.
CHRYSOCOLLA
Stone of the Wise Woman, of feminine empowerment. Associated with tranquility and intuition. Brings out one's inner strength, releasing old hurts such as feelings of guilt. Heals heartaches and promotes confidence, sensitivity and motivation. Helps those in position of guiding or teaching others, to communicate their knowledge and experience lovingly to others. Excellent stone for emotional balance and creative endeavours.
SERPENTINE
Powerful kundalini activation stone, helpful in alleviating any discomfort that awakening kundalini power might bring. Strong heart chakra stone resonating with the devic realms. Beneficial in clearing out energetic blockages from the chakras. Good manifestation stone to attract abundance.
Recently Viewed