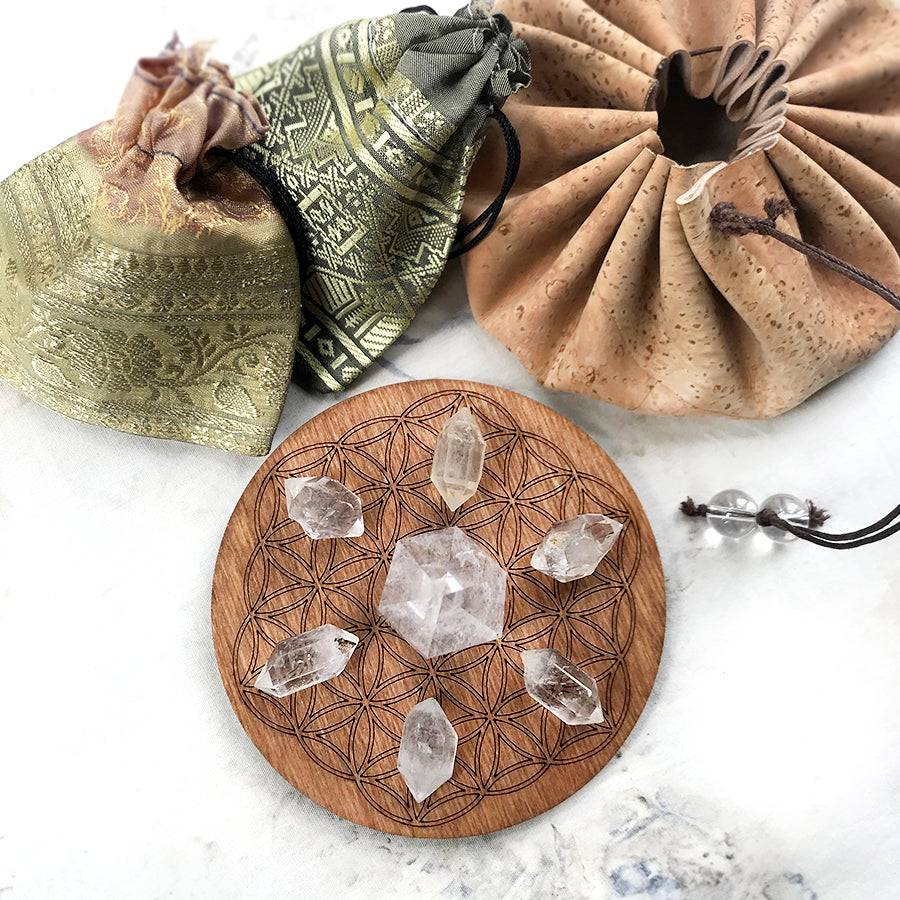 Travel Set ~ 'Quartz Power' crystal grid in cork pouch (vegan leather)
DESCRIPTION
Only a few of these available - I was making one for myself and realised this grid really packed a punch so thought some of you might appreciate one as well! This set consists of one polished Quartz point 'tower', six small double-terminated Sichuan Quartz points, a round balsa wood base with a burn-marked Flower of Life grid, two embroidered silk pouches and a soft cork pouch in which everything is packed in for convenient carrying. You can set up this crystal grid on the go wherever you are and dedicate it to your own chosen purpose.
The soft, protective cork draw-string pouch is very light-weight yet immensely durable. Made of felt-lined, sustainably grown bark of a cork tree (also called vegan leather) with a velvety feel. The brown draw-string ends are adorned with two Quartz crystal beads, and both the main Quartz point and the six double-terminated Sichuan Quartz crystals come in an embroidered, protective silk pouch that fit snuggly inside the main cork pouch.
The base diameter of the cork pouch, when closed, is approx 10 cm (4"). The diameter of the wooden gridbase disc is 9 cm (3.5"). The weight of the whole set is only around 100 g (3.5 oz) so it's a very handy crystal energy kit to take along to your travels.
You'll receive this useful little travel set securely wrapped for its postal journey and gift wrapped for no extra charge.
CRYSTAL PROPERTIES
QUARTZ
The universal master crystal that has a harmonising effect on all levels of being. Programmable by intention, so can be used for versatile purposes. Quartz can clear, enhance, amplify, transmute, balance, focus and transmit energy. Raises one's energetic vibration. Brings clarity and filters out distractions. A deep soul cleanser, attuning its keeper to their higher self. Each Quartz crystal is unique with its own character and teachings it offers, all are known as "Stones of Power" and "Master Healers".
SICHUAN QUARTZ
Spiritually attuned to the white flame of pure consciousness, activating the crown and the third eye chakras. Aligns all the energy bodies, bringing forth a meditative state, peace and present moment awareness. Expands your consciousness and opens up psychic channels. Releases old, stagnant emotions, cleanses one's auric field and releases negative thoughts. Emanates a strong "OM" vibration. Can be used to intensify attainments, find out about karmic lessons and to bring deep healing for all levels of being. Double-terminated Sichuan Quartz brings powerful spiritual protection and purification.
Recently Viewed