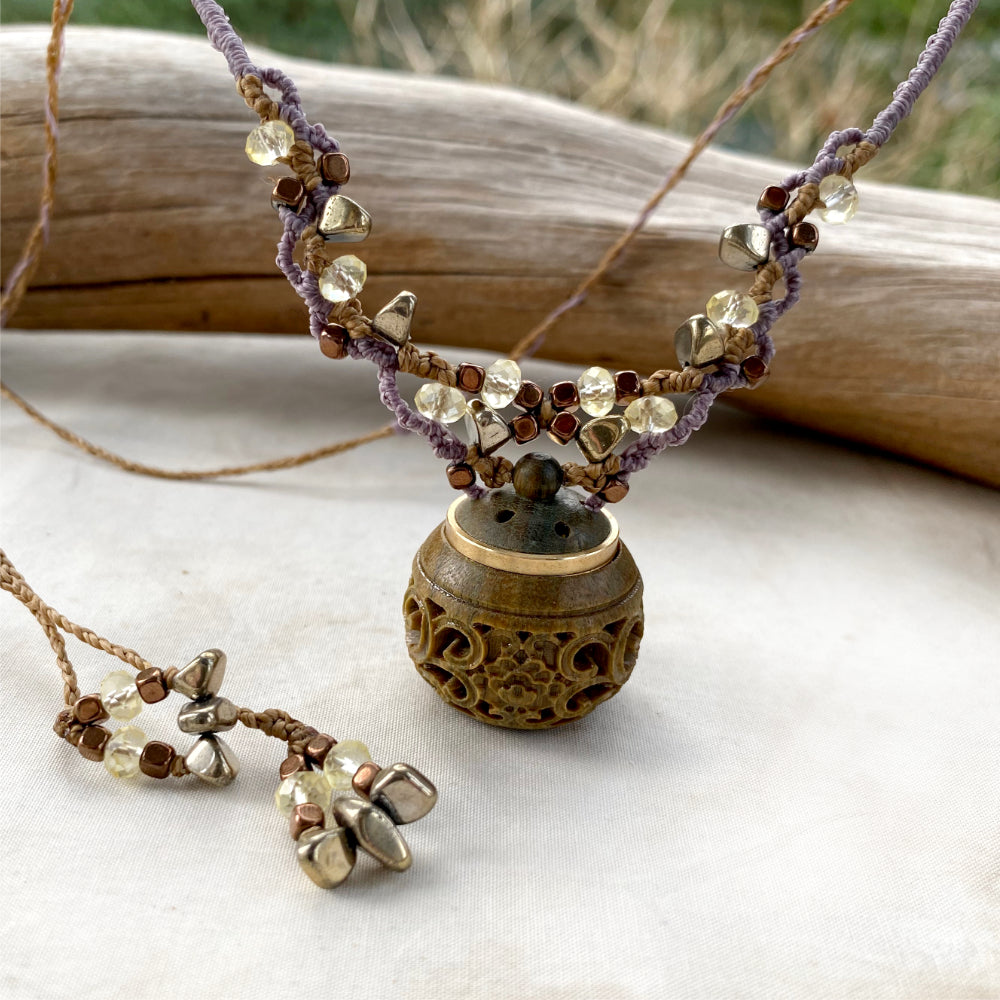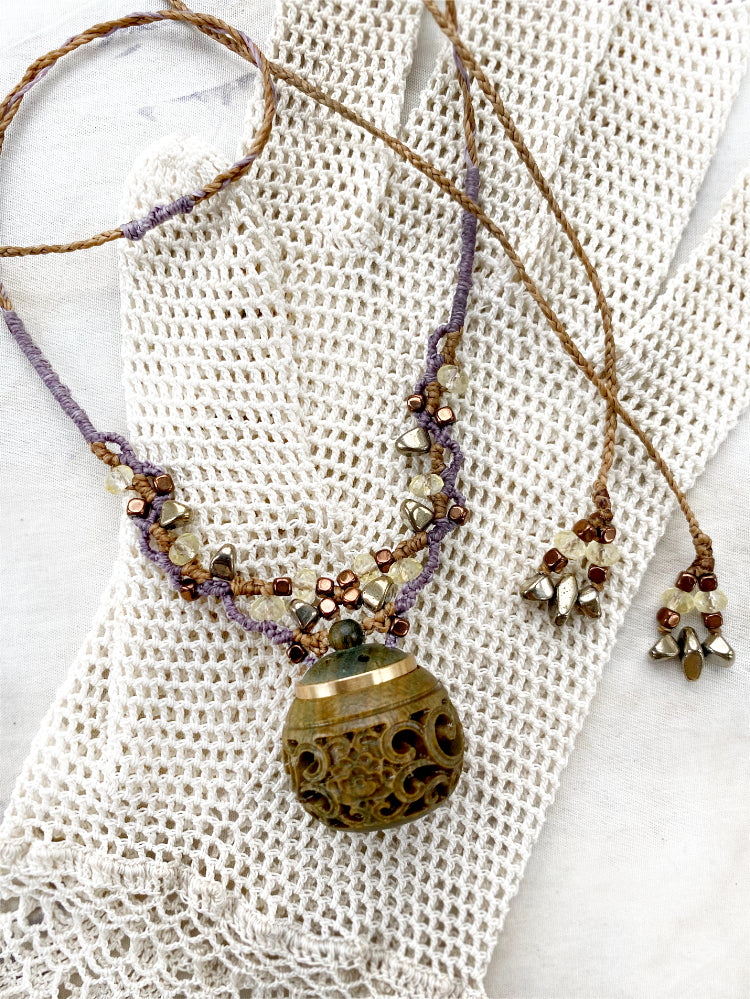 Treasure vessel amulet
DESCRIPTION
Crystal healing amulet with a small, intricately carved wooden container as the main pendant piece. The necklace is knotted with two tones of micro-macrame cord, golden brown and light purple. The highlighting crystals within the knotwork and the braid ends are Citrine and Hematite (both copper and gold coated). Because the carving includes holes through the wood, this is not suitable for liquids. You can choose to carry any tiny treasures inside, but you'll receive this amulet with a double-terminated Sichuan Quartz which also presents a 'bridge formation' (a smaller crystal point embedded on its side) and fitting perfectly inside the wooden container.

Please note in case you have metal allergy: there is also a small brass part around the rim of the lid in this container.

The necklace has a knotted channel through which you can pull the braided cords to change the length and have the vessel hang at your desired level. The container has a diameter of approx. 2.5 cm (1") and with the lid, is approx. 2.5 cm (1") tall.
You'll receive this crystal healing necklace in one of Spirit Carrier's fabric draw-string pouches, great for the safe-keeping of the necklace. Gift-wrapped at no extra charge.

Read here how to take care of your crystal jewellery.
CRYSTAL PROPERTIES
CITRINE
Affects a powerful alignment with the higher self. Balances the emotions and helps in uplifting one's mood to be more sunny and cheerful. Brings clarity of thought, and attracts abundance and prosperity through joy. Powerful transformer in healing work. Increases self-confidence and optimism, cleanses the surrounding energies and promotes creative thinking. Releases, dissipates and transforms denser energies on all levels, mental, emotional and physical. Works to release limitations and blockages particularly around the sacral / solar plexus area.
HEMATITE
Creates a strong sense of self and enhances the creative flow. Relieves stress. Revitalises, enhancing personal magnetism and optimism. Helps in releasing self-imposed limitations to find your own unique gifts. A stone of balance and equilibrium. Grounds when feeling scattered, allows one to maintain a natural alertness while remaining calm.
SICHUAN QUARTZ
Spiritually attuned to the white flame of pure consciousness, activating the crown and the third eye chakras. Aligns all the energy bodies, bringing forth a meditative state, peace and present moment awareness. Expands your consciousness and opens up psychic channels. Releases old, stagnant emotions, cleanses one's auric field and releases negative thoughts. Emanates a strong "OM" vibration. Can be used to intensify attainments, find out about karmic lessons and to bring deep healing for all levels of being. Double-terminated Sichuan Quartz brings powerful spiritual protection and purification.
Recently Viewed