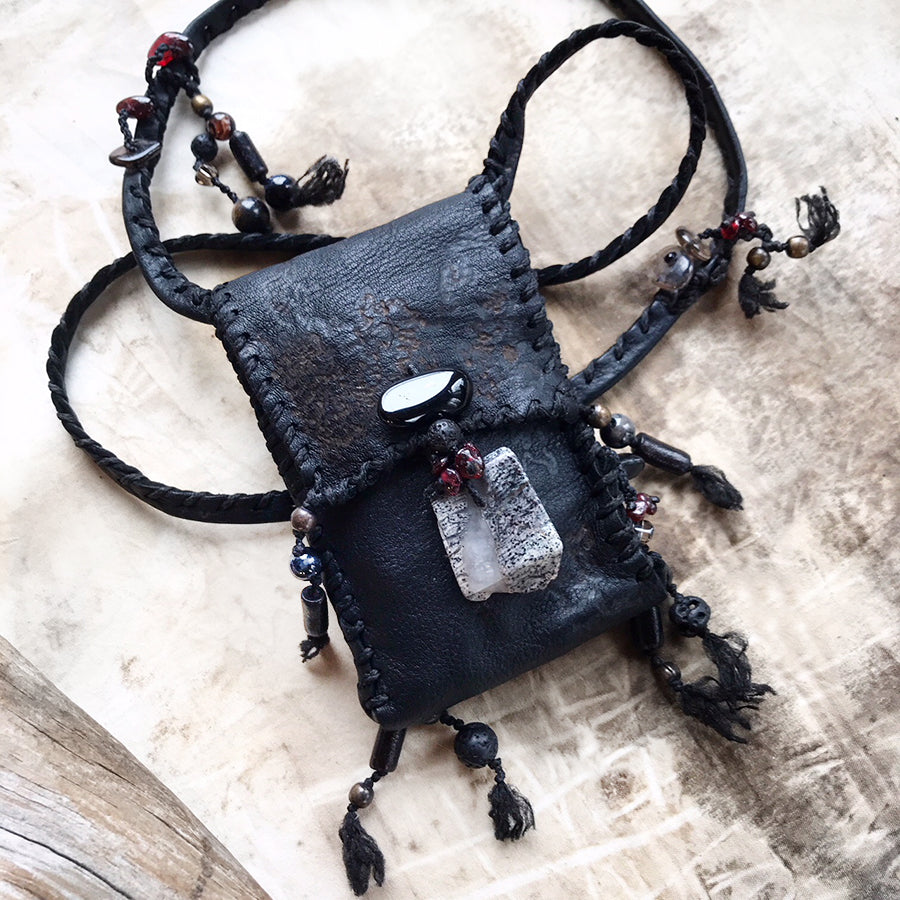 Tribal style leather pouch necklace with crystal detailing
Tribal style wearable Wisdom Keeper necklace pouch in black reindeer leather - a contemporary take on the native shaman 'medicine bags'. The pouch is stitched by hand with black cord and parts of the leather's surface are slightly embossed with freehand pyrography. The inside is left unlined and is the natural suede side of the leather. This pouch would be suitable for carrying a selection of smaller crystals or a couple of longer crystal points, perfect for travelling and having your favourite crystals handy on those longer plane, car or train journeys. You could of course also carry folded notes in this pouch, or any small talismanic items. The frontal flap of the pouch rests close by the weight of the Silver Leaf Jasper so there is no toggle clasp needed. The other crystals adorning the frontal flap are Black Tourmaline and Almandine Garnet. Smaller crystals adorning the pouch are Smokey Quartz, Agates, Snowflake Obsidian, Black Coral, Almandine Garnet and Lava Stone. There are also a few patinated brass beads and one 'blue sandstone' bead.

The outer measurements of the pouch are: 9 cm (3.5") tall, 6 cm (2.4") wide, 1 cm (0.4") thick. The necklace is stitched leather and of set length: 69 cm (27") all around. 

You'll receive this one-of-a-kind Wisdom Keeper necklace pouch gift-wrapped for no extra charge.
Recently Viewed