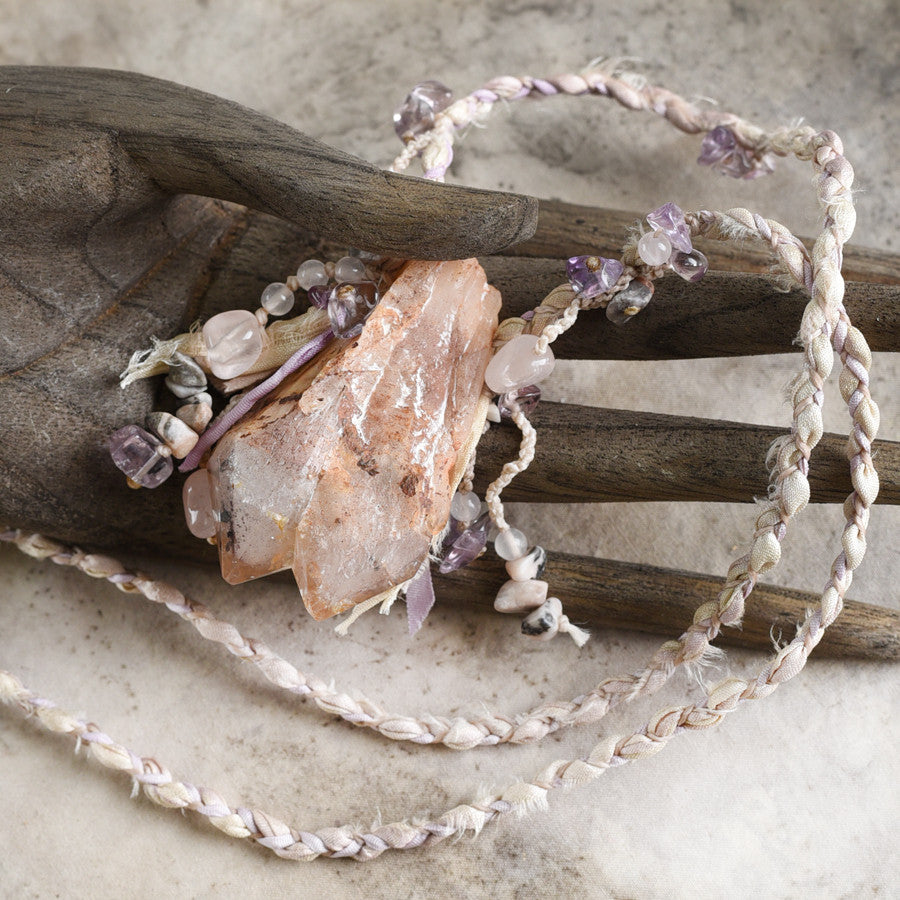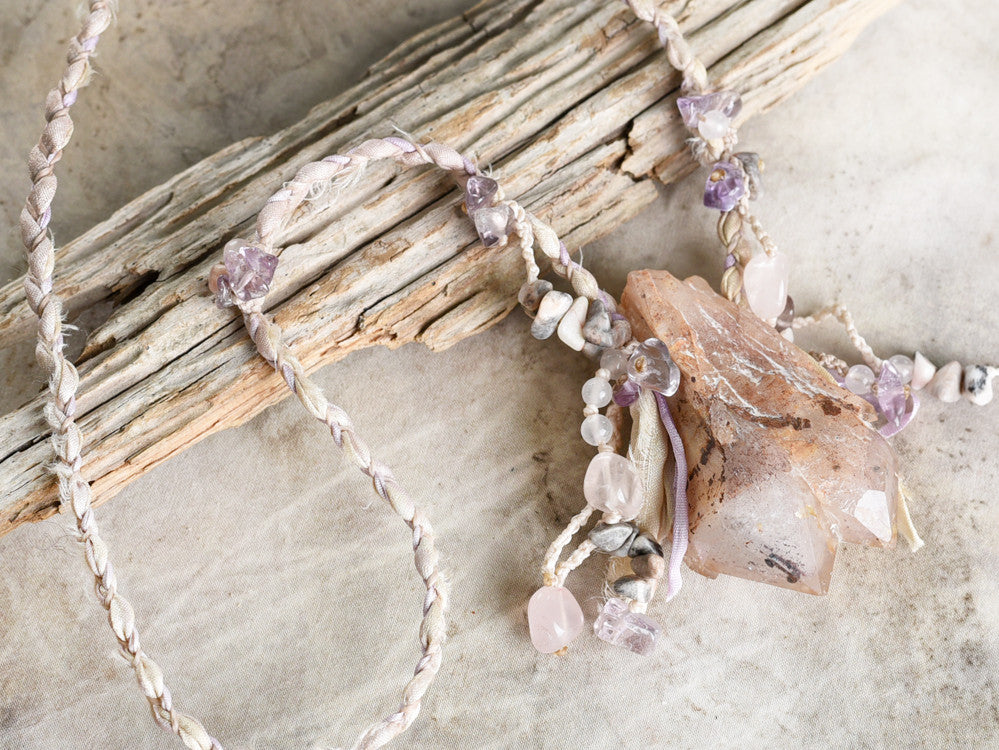 'Twinned Spirit' ~ Phantom Quartz stone talisman with Rose Quartz, Amethyst & Zebra Jasper
DESCRIPTION
Twin pointed Phantom Quartz stone talisman in subtle earthy hues with hints of lilac. The necklace is braided with a combination of lilac silk ribbon, recycled un-bleached sari silk and cream tone micro-macrame cord. The talisman is highlighted with Amethyst, Zebra Jasper and rose Quartz crystals adorning the sides of the Phantom Quartz and also extending along the necklace braid.
The necklace braid is set length, allowing the Phantom Quartz to hang down 37 cm (14.5") measured from the back of the neck to the top edge of the Phantom Quartz - i.e. the all-around length of the necklace braid is 74 cm (29").
The Phantom Quartz is approx. 5.5 cm (2.2") tall and 3 cm (1.2") at its widest.
You'll receive this crystal healing necklace in one of my handmade fabric draw-string pouches - great for the safe-keeping of the necklace. Gift-wrapped at no extra charge.
CRYSTAL PROPERTIES
PHANTOM QUARTZ
Powerful earth healer crystal that symbolises universal awareness. Activates one's own inner healing capabilities. Enhances business creativity and provides inspiration to reach your goals. Said to open up clairaudience abilities. Offering guidance on the process of life and inner growth, helping to see the past as part of one's meaningful spiritual path.
AMETHYST
Instils inner peace, promotes self-discovery and aids in relaxation. Associated with the crown chakra, known as a "stone of balance" and positive transformation. Thought to increase spiritual awareness and psychic abilities, initiating higher knowing and greater understanding. Helps in assimilating new ideas and manifesting thoughts into action. Symbolises a connection to the Divine.
ROSE QUARTZ
Powerful love stone, love that is all-encompassing and unconditional. Vibrates its loving energy to all chakras, offering gentle healing. Soothing and calming. Dissolves anger and resentment. Good for raising one's self-esteem and feelings of self-worth. Balances emotions and is said to support all types of healing.
ZEBRA JASPER
Also known as 'white tiger stone', encouraging you to enjoy the experiences life offers. Like all Jaspers, this too is soothing and balancing. Zebra Jasper lifts your mood and motivates you to take action, to overcome apathy. Helps you to see your true nature and find out what you truly desire.
Recently Viewed