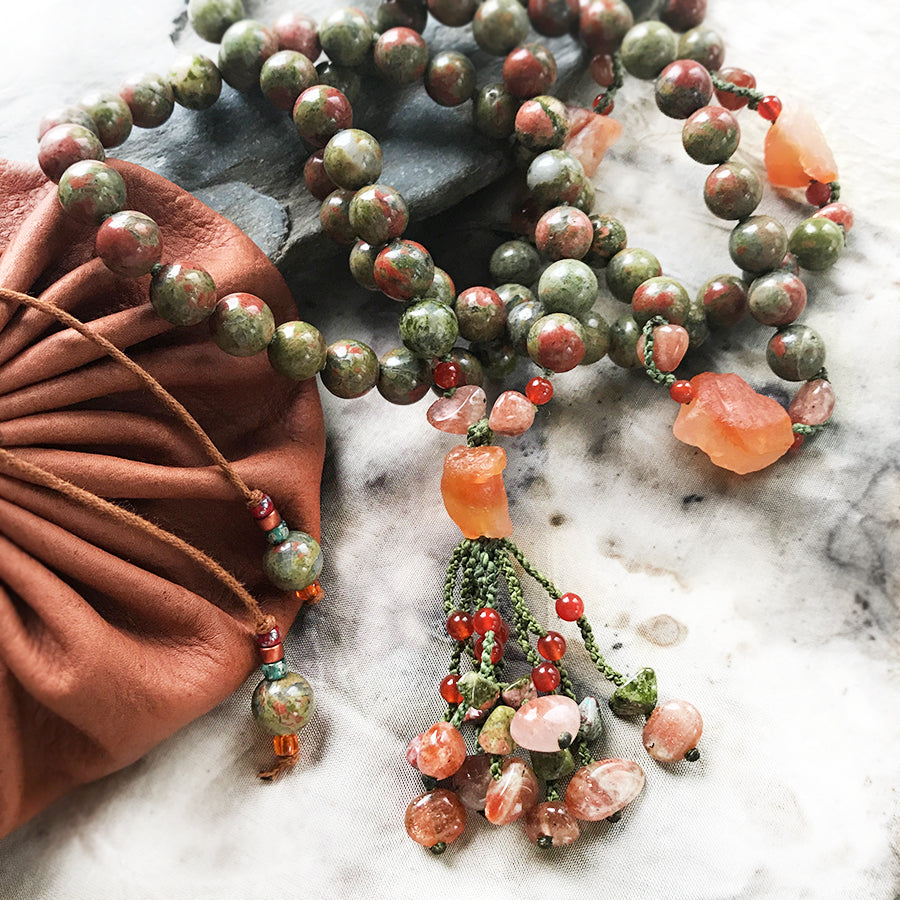 Unakite meditation mala ~ 108 bead full length
DESCRIPTION
One of a kind, contemporary 108 bead meditation mala with Unakite counter beads. The three dividers are a combination of Carnelian and Lepidochrosite included Quartz. The guru bead consists of the same as the dividers, with the addition of small Unakites in the eight-strand crystal 'tassel'.
The Unakite counter beads are knotted individually for added strength and handling flow, using forest green micro-macrame cord. 
All around length of mala: 128 cm (50") 
Counter bead diameter: 1 cm (0.4") 
The width of the divider combination: approx. 4 cm (1.6") 
Length of guru bead crystal combination, incl 'tassel': 6.5 cm (2.6")
Please note that Spirit Carrier malas come usually in three sizes, determined by the diameter of the main counter beads - either 8 mm, 10 mm or 12 mm. This mala is the medium size with 10 mm counter bead diameter.
This mala comes in one of my handmade, luxurious soft leather pouches for safe-keeping. If you would rather have a fabric pouch, please let me know at the time of purchase. 
You'll receive this mala gift-wrapped at no extra charge.

Read more about Spirit Carrier mala beads
CRYSTAL PROPERTIES
UNAKITE
Emotionally healing, encouraging loving self-acceptance. Clears energy blockages from past hidden emotions, allowing you to radiate love openly, thus attracting love from others. Peaceful stone of connection that encourages harmonious partnerships. Also excellent stone for protecting from electromagnetic fog. Said to be a supportive stone in matters of fertility.
CARNELIAN
Known as a stone of motivation and courage. Stimulates creativity and increases one's sense of self-worth. Balancing for body's energy levels, restoring vitality and motivation. Said to attract prosperity, new resources and good luck. A success stone that helps you follow through with plans. Stone of action that aids in overcoming procrastination. Helps in gaining more understanding of one's inner self. Stimulating to the Sacral Chakra, which, when in balance, allows one to enjoy life, feel its joys and pleasures, be flexible and 'go with the flow'.
LEPIDOCHROSITE IN QUARTZ
Stimulates intuitive spiritual awareness, at the same time gently grounding to Earth energy. Raises consciousness, and can be used for focusing intent during energy healing sessions. Calming and soothing, aids in releasing fears and aligning one with Divine will. A stone of 'allowing' and trusting the flow of life.
Recently Viewed