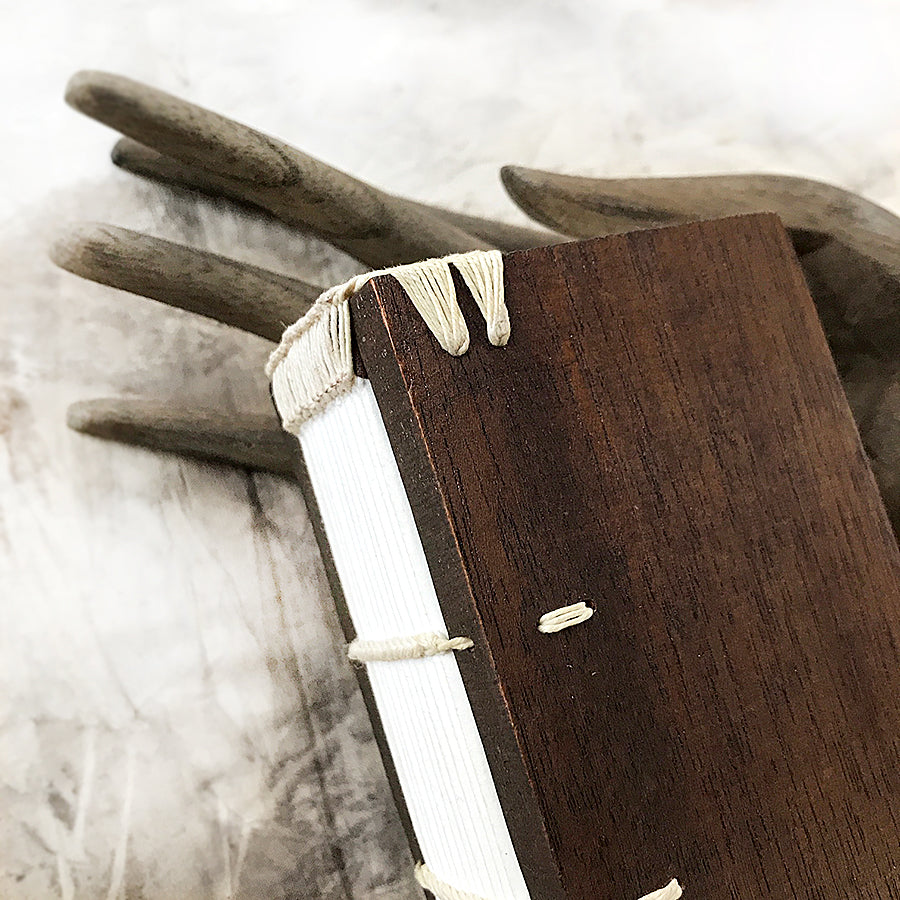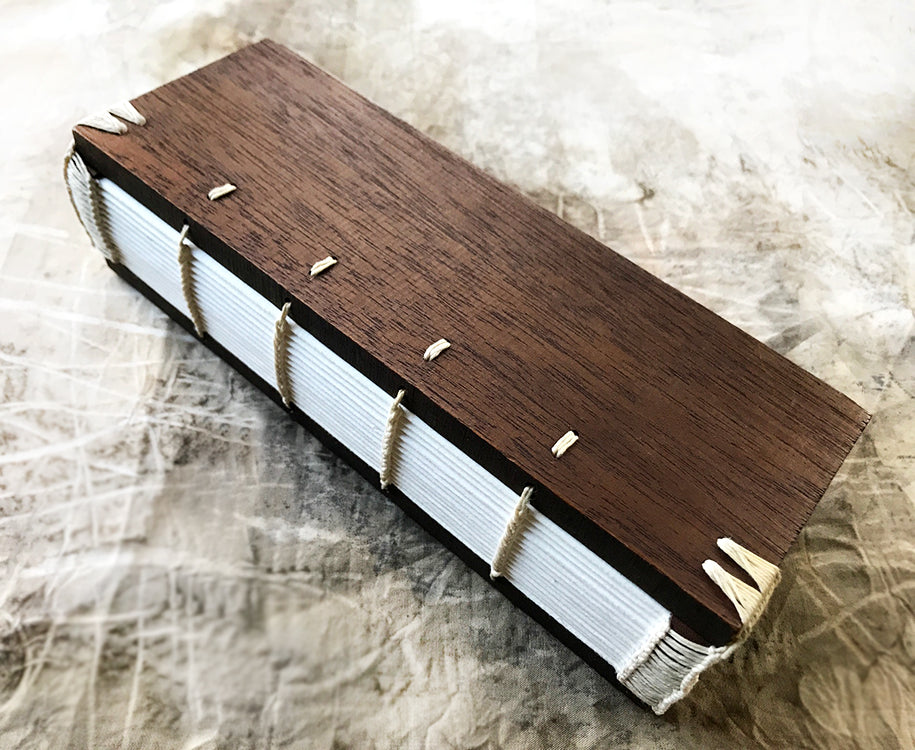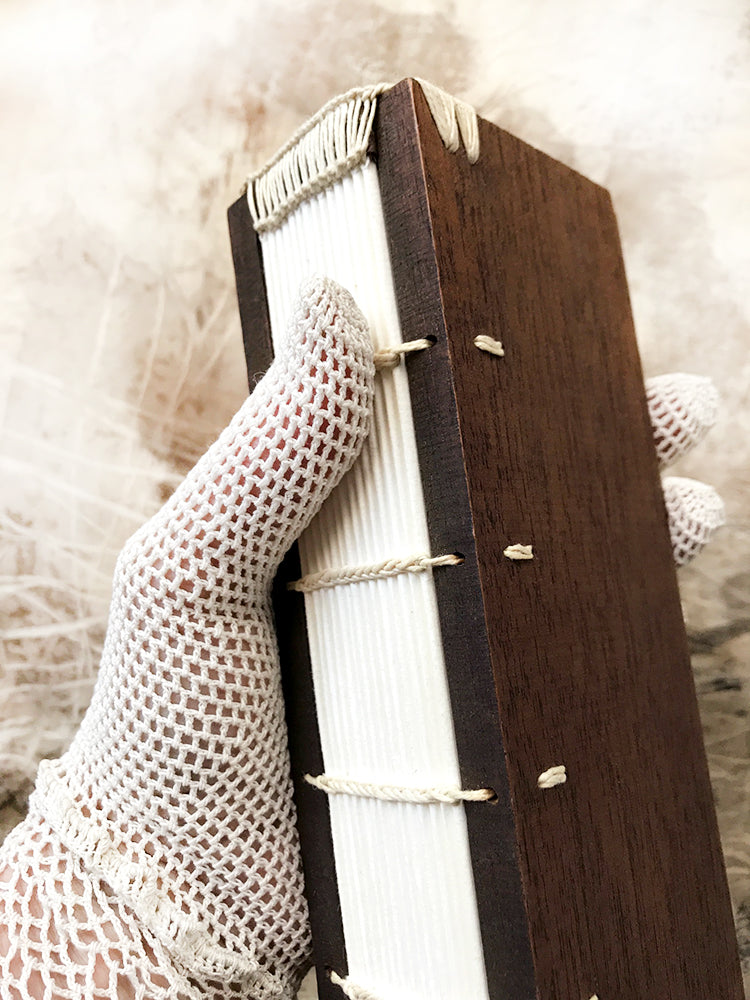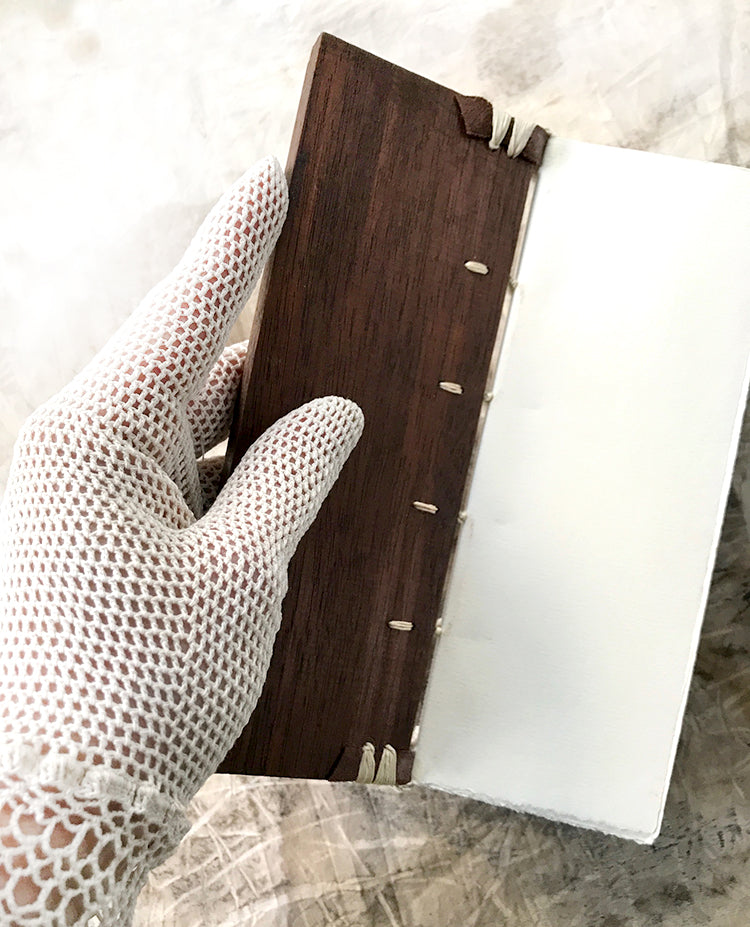 Unique hand-bound journal in mahogany covers
DESCRIPTION
Here's a one-of-a-kind Wisdom Keeper, whether you'd like to use it as a notebook, a diary, a travel journal, a guest book or anything you come up with! This unique book is entirely handmade - now a vintage treasure as it was crafted in 1995. This book was meticulously made as a historical sample of a Coptic book and stitched with a 'butterfly stitch' using four curved needles (not with a single needle link stitch as often the contemporary Coptic facsimiles nowadays are). Copts were the early Christians in Egypt who first adopted this now-familiar book structure of 'leaves between covers' that eventually replaced the scrolls that had been in use so far. The earliest Coptic bookbindings left the spine uncovered, and the sewn headbands at the top and bottom edge of the spine structurally strengthened the book.
This little sample has mahogany covers, integrally attached with the same sewing thread that goes through the pages. The spine is flexible so the book opens up easily for writing or sketching. The paper in the book is plain white and un-lined. The edges are deckled for a softer effect and to distinguish a fully handcrafted book from those with sharp machine-cut edges. It is acid-free archival paper, so will keep the contents safe for years to come.

The size of this book is tall and thin with 19 cm height and 7 cm width. The spine of the book, including the covers, is 5 cm thick. The book has 280 pages, i.e. 140 leaves. 
This unusual book would make a perfect gift for someone who still likes to write with a proper pen on real paper, a poetic soul perhaps, or an avid reader with an affinity to the historical roots of our beloved books, to record their thoughts and memories in the coming year. This book is also perfect for sketching or drawing.

You'll receive this Wisdom Keeper book beautifully gift-wrapped for no extra charge.
Recently Viewed