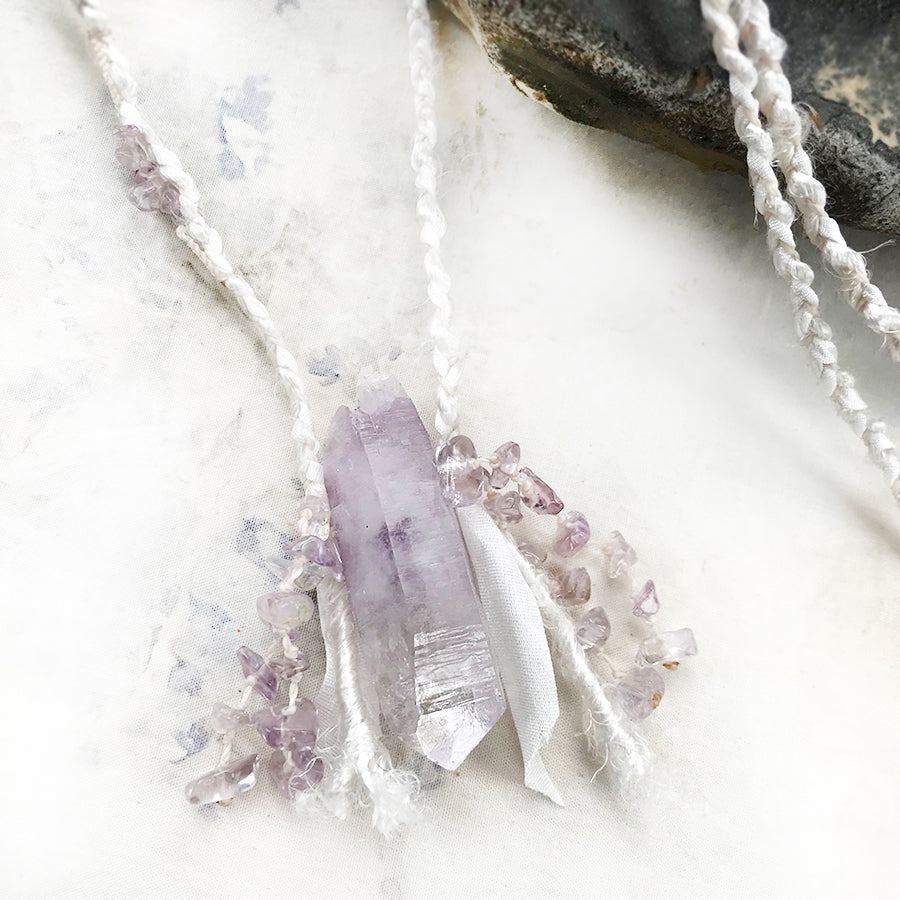 Vera Cruz crystal healing talisman
DESCRIPTION
Crystal healing talisman with double-terminated Vera Cruz Amethyst, in pale lavender tone with beautiful inner clouds and an elestial termination on its top end. The necklace is braided with softly spun white banana silk combined with white silk ribbon and cream tone micro-macrame cord. The braid is divinely soft to wear and the necklace is not heavy. The Vera Cruz Amethyst is combined with tiny Amethyst crystal strands on both sides, and there is also a small floret of crystals adorning one side of the necklace braid.
The necklace braid is set length, allowing the Vera Cruz Amethyst to hang down approx. 37 cm (14.5") measured from the back of the neck to the top edge of the crystal. The all-around length of the necklace braid is 74 cm (29"). As there is no closure clasp, this necklace is very easy to wear by just slipping it over your head.
The Vera Cruz Amethyst is approx. 5 cm (2") tall and just over 1.5 cm (0.6") at its widest.
There are no metals in this necklace so would be particularly suitable for those with metal sensitivities / metal allergy, energy workers and those who simply prefer not to wear metal.
You'll receive this crystal healing necklace in one of my handmade fabric draw-string pouches - great for the safe-keeping of the necklace. Gift-wrapped at no extra charge.
Prior to leaving Spirit Carrier studio, all crystals are energy cleansed, balanced and activated for the highest good of their new keeper. 

Read here how to take care of your crystal jewellery.
CRYSTAL PROPERTIES
VERA CRUZ AMETHYST
Crystal for higher dimensional guidance and perception. Brings calmness and serenity, activating third eye and crown chakras. Expands intuition and creates a protective energy field, insulating one from disturbing influences. Can initiate instant meditative states and accelerates spiritual growth. Strengthens inner knowing about one's life direction and guides in taking the most beneficial steps forward.
DOUBLE-TERMINATED: Due to a point in both ends, energy flows freely to both directions through this crystal, offering a sense of 'flow' in life. Particularly useful when working to help other people, or when doing healing work on oneself. Excellent for balancing and aligning the chakras. Can be used as a bridge between any two things, such as spirit and matter for example.
ELESTIAL formation: Deep spiritual healing energy, majestic vibe. Linking multiple dimensions, timelines and levels of consciousness, integrating increasingly higher vibrations of light into its keeper's energetics. Attuned to the angelic domain.
AMETHYST
Instils inner peace, promotes self-discovery and aids in relaxation. Associated with the crown chakra, known as a "stone of balance" and positive transformation. Thought to increase spiritual awareness and psychic abilities, initiating higher knowing and greater understanding. Helps in assimilating new ideas and manifesting thoughts into action. Symbolises a connection to the Divine. A well-known support stone for those wanting to break old patterns to create a new, harmonious life.
Recently Viewed