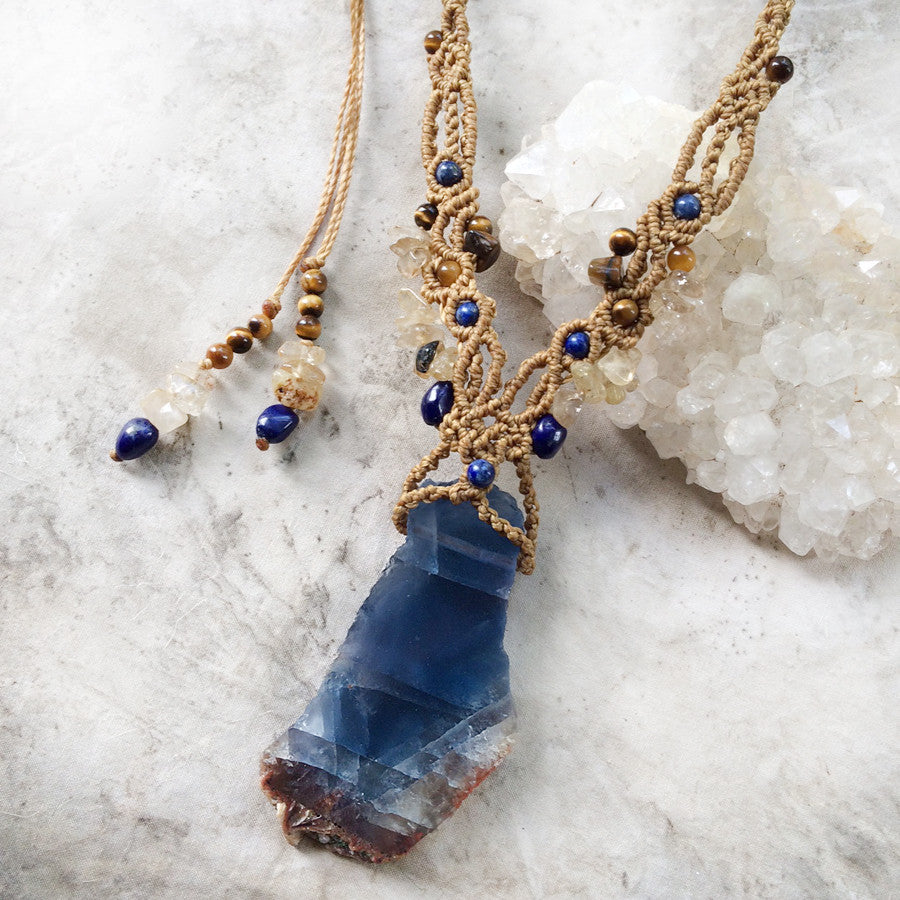 'Vision Quest' ~ Fluorite crystal amulet with Lapis Lazuli, Gold Rutile Quartz & Tiger Eye
DESCRIPTION
Crystal healing necklace with bright blue Fluorite, highlighted with Lapis Lazuli, Gold Rutile Quartz and Tiger Eye crustals. The necklace is intricately knotted with golden brown micro-macrame cord, which is strong and durable yet soft and comfortable to wear.
The length of the necklace is adjustable from very short down to solar plexus level. The blue Fluorite is approx. 6 cm (2.4") tall and 3 cm (1.2") at its widest.
There are no metals in this necklace so would be particularly suitable for those with metal sensitivities, energy workers and those who simply prefer not to wear metal.
You'll receive this crystal healing necklace in one of my fabric draw-string pouches, great for the safe-keeping of the necklace. Gift-wrapped at no extra charge.
CRYSTAL PROPERTIES
FLUORITE
Excellent for cleansing one's aura, also detaching unwanted energy cords. Grounds excessive energy, beneficial for all levels of healing. Helpful in achieving spiritual wholeness. Protective, stabilising and harmonising stone. Facilitates personal growth. Excellent 'focus' stone. Expands awareness. Anchors intuitive insights into the physical plane. Also known as absorbing environmental EMF. Blue Fluorite is attuned to the Third Eye chakra, enhancing intuitive visions and their accuracy.
LAPIS LAZULI
Creativity super charger stone. Ignites new ideas and encourages different creative ways of thinking. Stone of truthfulness, openness, inner power, intuition and manifestation. Thought to increase self-confidence as well as to promote spiritual healing, mental calmness and strength of will. Powerful tool for dream work. Historically a stone of royalty.
TIGER EYE
A power stone for attracting prosperity. But it has also a highly spiritual energy and is helpful in understanding any life cycle that one is living through. It helps in seeing through illusions, in discerning the truth in any situation. A highly protective as well as grounding stone. Good for strengthening the solar plexus (3rd) chakra.
GOLD RUTILE QUARTZ
A master assistant in self-discovery, a companion in finding one's inner truth, purpose and destiny. Joyful and energising. Thought to offer protection against psychic attacks and help in healing karmic issues. Gold Rutile Quartz is thought to be helpful in manifesting one's dreams into reality.
Recently Viewed