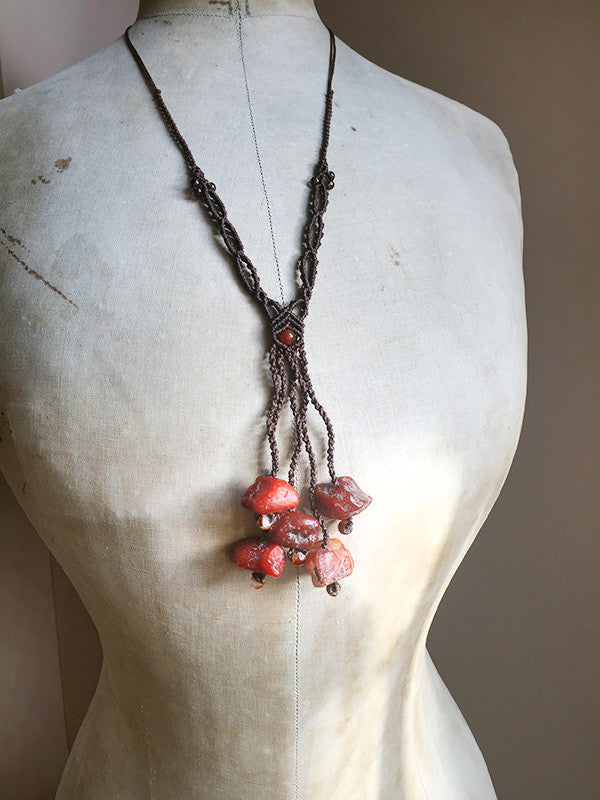 'Warm Heart' ~ Carnelian healing talisman with Smokey Quartz
DESCRIPTION
Crystal healing talisman with five rough Carnelian crystals. The necklace is intricately knotted with dark brown micro-macrame cord, highlighted with small Smokey Quartz crystals. Also the ends of the adjustable necklace cord are adorned with matching crystals.
The length of the necklace is adjustable from very short down to just above solar plexus level. The Carnelians are approx. 2 cm (0.8") wide each and the five knotted strands hang down approx. 9 cm (3.5") from where they join, down to the base of the Carnelians.
There are no metals in this necklace so would be particularly suitable for those with metal sensitivities / metal allergy, energy workers and those who simply prefer not to wear metal jewellery.
You'll receive this crystal healing necklace in one of my fabric draw-string pouches, great for the safe-keeping of the necklace. Gift-wrapped at no extra charge.
CRYSTAL PROPERTIES
CARNELIAN
Known as a stone of motivation and courage. Stimulates creativity and increases one's sense of self-worth. Balancing for body's energy levels, restoring vitality and motivation. Said to attract prosperity, new resources and good luck. A success stone that helps you follow through with plans. Stone of action that aids in overcoming procrastination. Helps in gaining more understanding of one's inner self. Stimulating to the Sacral Chakra, which, when in balance, allows one to enjoy life, feel its joys and pleasures, be flexible and 'go with the flow'.
SMOKEY QUARTZ
A grounding and calming stone that elevates moods and dissipates negative emotions. "A Stone of Serenity", it is comforting and protective for one's aura. Smokey Quartz is thought to assist in creative endeavours and also in setting personal boundaries. Offers EMF protection. A good healing stone for improving general feeling of well-being.
Recently Viewed