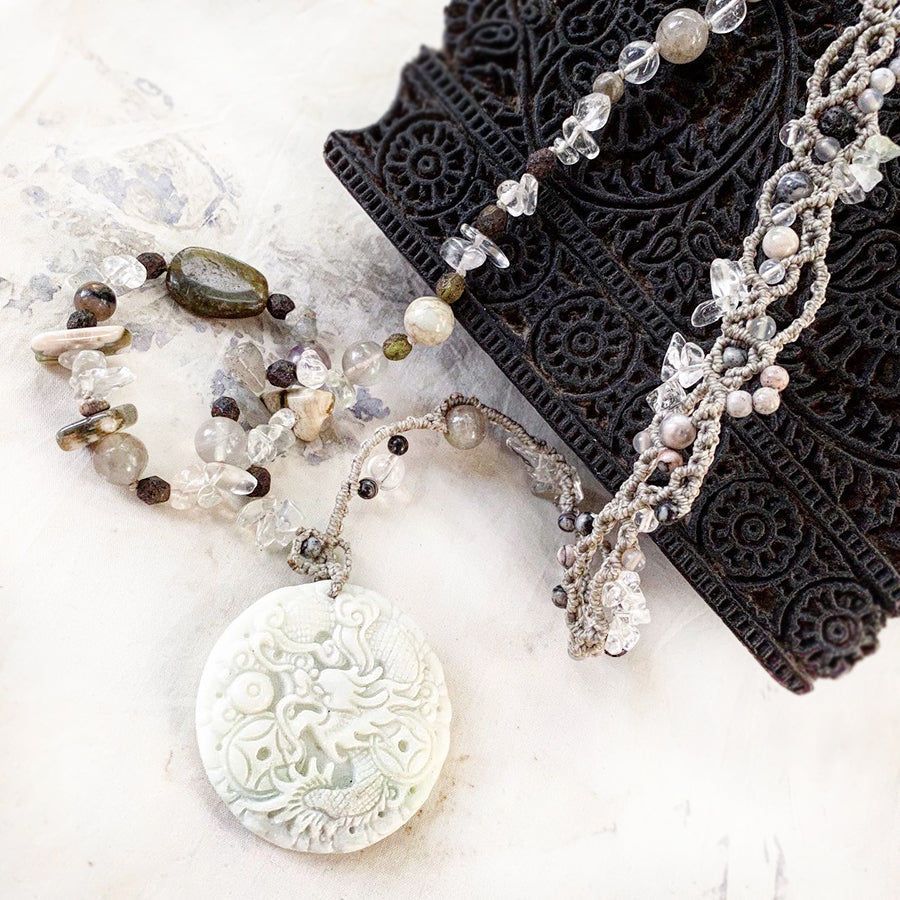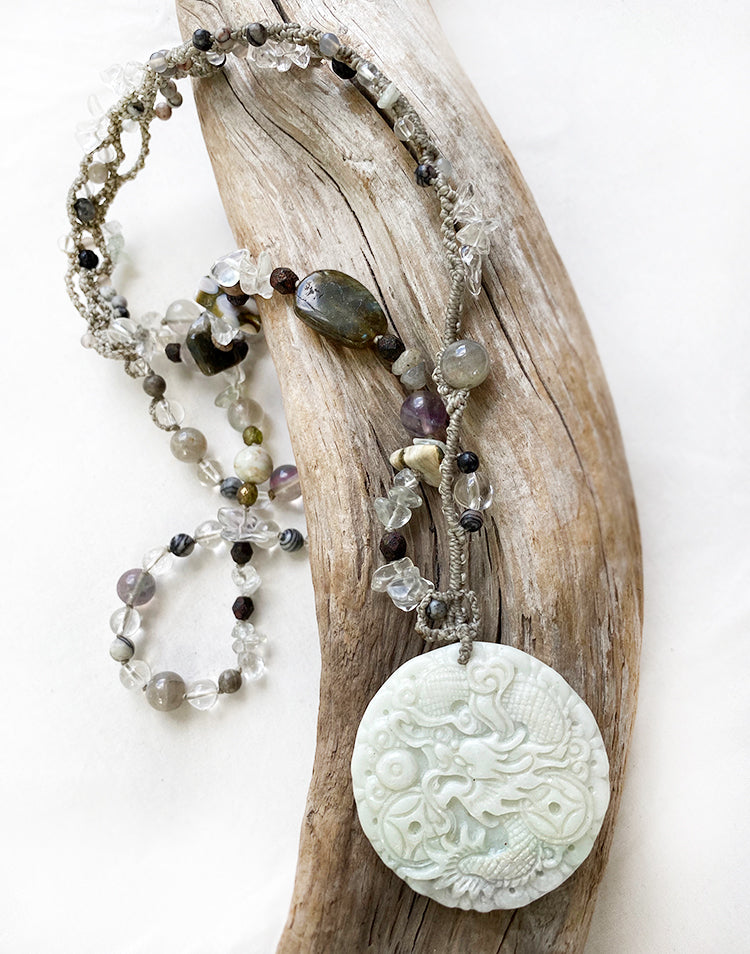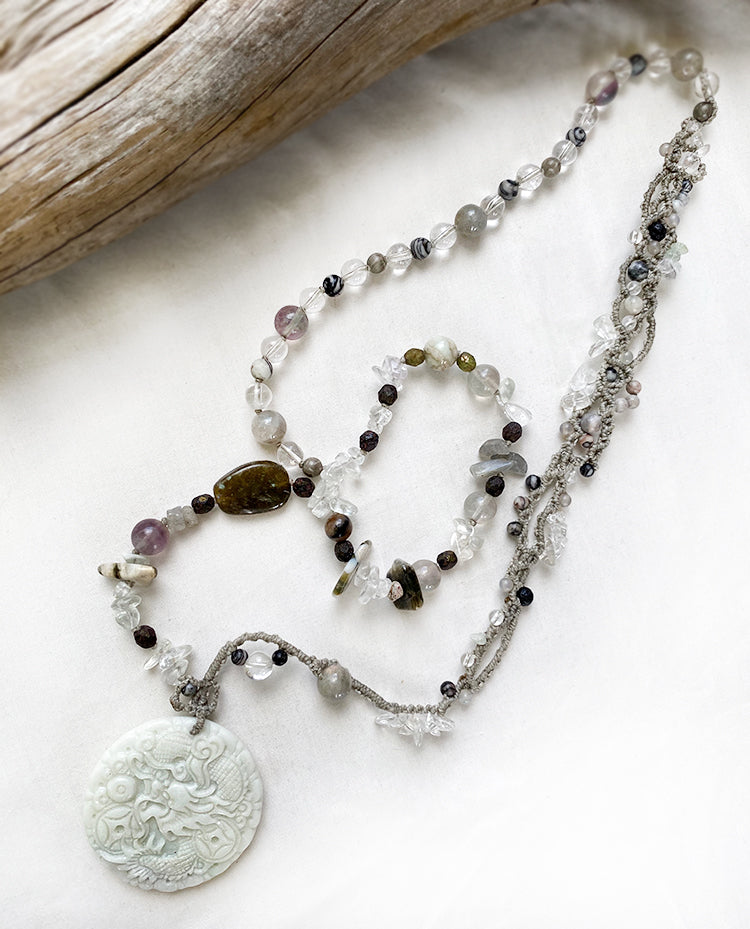 White Jade 'dragon' crystal healing amulet
DESCRIPTION
Unusual and eye-catching, this luxurious one-of-a-kind crystal healing necklace offers a powerful vibe or courage and confidence. The design is asymmetrical, ranging from beaded patterning on one side to intricate decorative knotting with light grey micro-macrame cord on the other. The elaborate lace-like knotting is highlighted with small crystals of Black Line Jasper, clear Quartz, Zepra Jasper and Lava Stone. The beaded side includes Ocean Jasper, Chiastolite and Labradorite, as well as some fire-polished glass beads in earthy shimmery tones.

This crystal healing necklace is a set length, measuring all around: 83 cm (32.5"). The circular carved Jade has a diameter of just under 5 cm (2"). Due to the length of this necklace, there is not need for a clasp or a closure, you can simply slip the necklace over your head to put it on and take it off. Whether you'd wear this talisman as a ceremonial piece on special occasions or as a statement piece with simple, casual clothing, these crystals adapt and feel at home in both settings!

There are no metals in this lariat necklace so would be particularly suitable for those with metal sensitivities, energy workers and those who simply prefer not to wear metal.
You'll receive this crystal amulet in a fabric draw-string pouch for safekeeping, and beautifully gift-wrapped at no extra cost.

Read here how to take care of your crystal jewellery.
CRYSTAL PROPERTIES
JADE
Known throughout history as the stone of happiness, prosperity and good luck. Said to bless everything it touches. For the Chinese, Jade is a stone of "long life & peaceful passing". Strongly protective stone, strengthening the auric field, fostering balance, harmony and peace. Has a restorative energy, stimulates ideas and relinquishes self-imposed limitations. Promotes healthy self-confidence and strength of character. White Jade filters away distractions, allowing inner knowledge to surface. Good for achieving meditative states. Aids decision making. A protective stone, historically used to keep its wearer out of harm's way.
LABRADORITE
One of the most powerful, versatile crystal tools for healing. Creates an auric shield and strengthens your innate energy and life force, preventing energy leakages. Enhances intuitive abilities and assists in spiritual transformation. Helps the wearer align with their highest destiny and discover their inner worth. Strengthens willpower and brings in new ideas. Often referred to as the 'Stone of Destiny', believed to help you to find your true path in life, and as 'Temple of the Stars', anchoring higher dimensional light into your being.
FLUORITE
Excellent for cleansing one's aura, also detaching unwanted energy cords. Grounds excessive energy, beneficial for all levels of healing. Helpful in achieving spiritual wholeness. Protective, stabilising and harmonising stone. Facilitates personal growth. Awareness expanding. Anchors intuitive insights into the physical plane. Offers strong psychic protection, helping to discern energies one comes in contact with. Helps in being objective and focusing on what is essential. Also known as absorbing environmental EMF.
OCEAN JASPER
Deep reaching healing stone, assists in seeing the past in a new light in order to create a future filled with joy and happiness. Known as the 'Atlantis stone'. Helps elevate mood and dispel stress-related energies. Ignites feelings of self-worth. Increases patience, elevates mood, releasing old hurts. Works with solar plexus, heart and throat chakras, aligning you with your own personal power.
BLACK LINE JASPER
Protective stone that's said to balance one's yin and yang energies. Grounding for one's kundalini channel. Instils a sense of wellness. Offers insight into one's life path and its purpose.
CLEAR QUARTZ
The universal master crystal that has a harmonising effect on all levels of being. Programmable by intention, so can be used for versatile purposes. Quartz can clear, enhance, amplify, transmute, balance, focus and transmit energy. Raises one's energetic vibration. Brings clarity and filters out distractions. A deep soul cleanser, attuning its keeper to their higher self. Each Quartz crystal is unique with its own character and teachings it offers, all are known as "Stones of Power" and "Master Healers".
CHIASTOLITE
Stone of balance and harmony. Its visible cross-pattern is thought to symbolise one's commitment to approach life with Awareness. Assists in adapting to change at transitional times. It is also thought to enhance practical creativity. Very protective, allows its wearer to hold their personal space more easily. For someone who has "many irons in the fire" all the time, this is a great crystal to have close for coping with it all!
LAVA STONE
Stone of vitality, assertiveness and passion. Provides stability in times of change. Grounding and protective. Supports courage and decisiveness. Helps in finding one's 'life path'. Encourages personal development and growth.
ZEBRA JASPER
Also known as 'white tiger stone', encouraging you to enjoy the experiences life offers. Like all Jaspers, this too is soothing and balancing. Zebra Jasper lifts your mood and motivates you to take action, to overcome apathy. Helps you to see your true nature and find out what you truly desire.
Recently Viewed