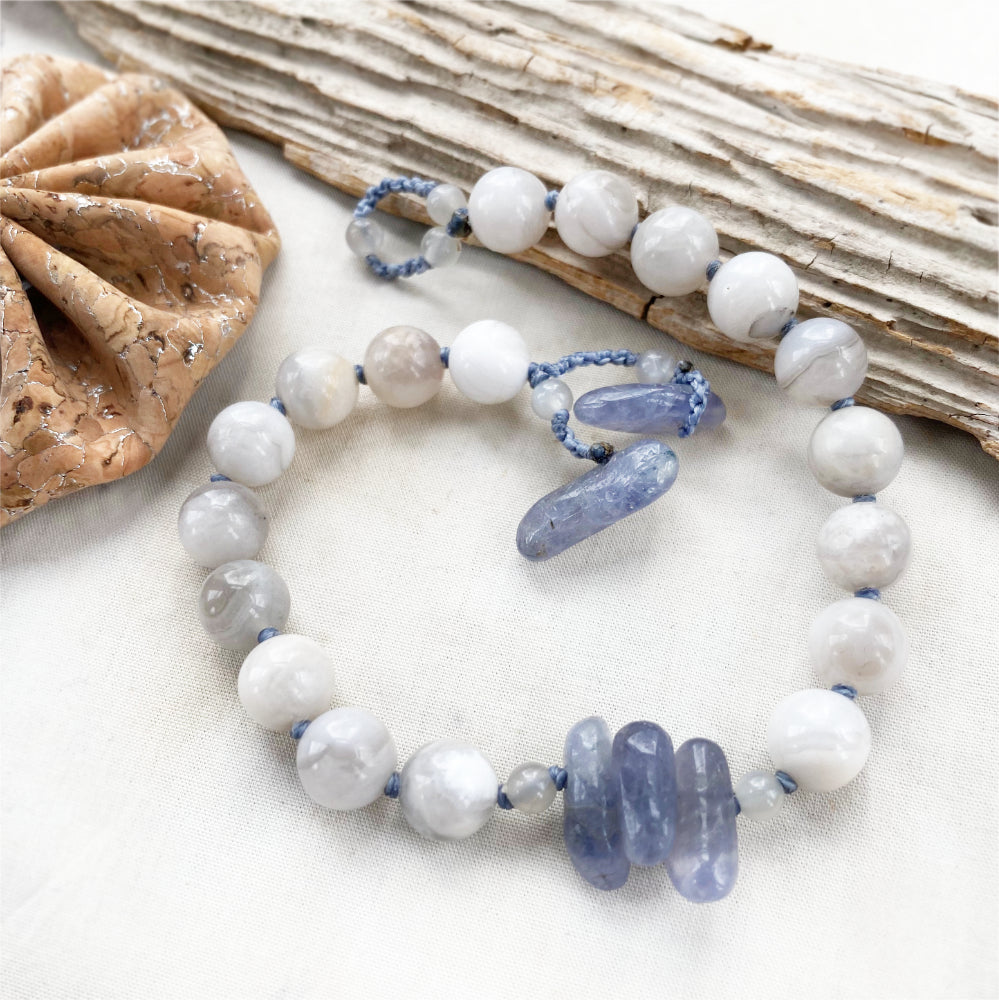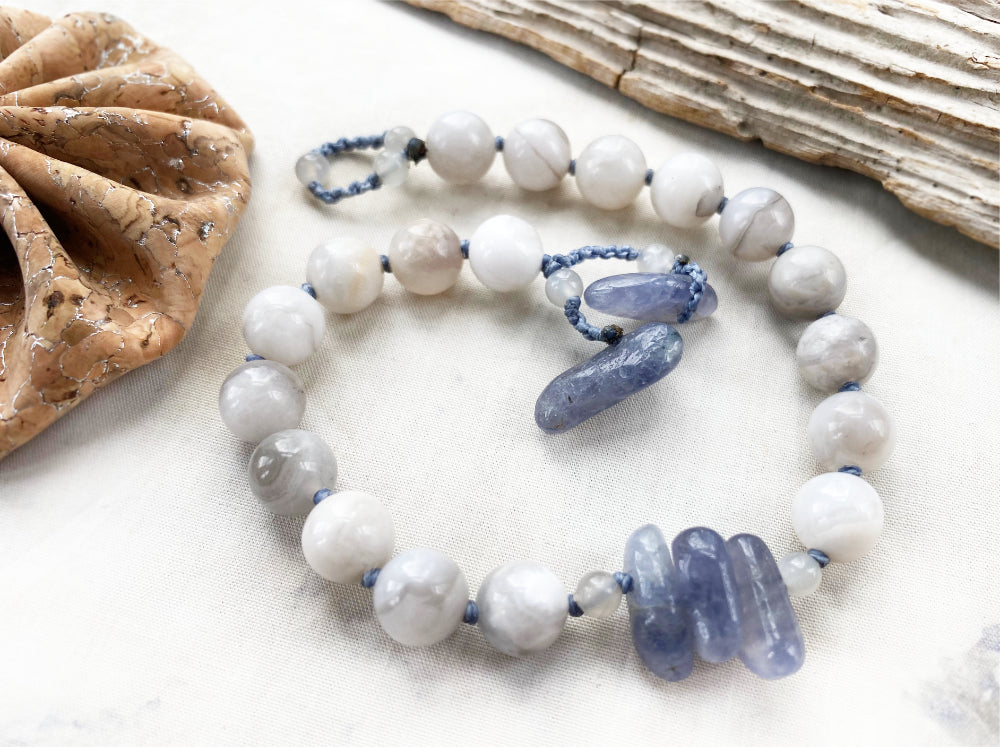 White Lace Agate mala bracelet
DESCRIPTION
Crystal mala bracelet with 18 White Lace Agate counter beads with a divider of three Iolites combined with small Moonstone crystals. The closing toggle stones are also Iolite. You can slip both through the knotted loop to fasten the bracelet securely. The counter beads are knotted individually for strength and flexibility, using muted blue micro-macrame cord. 
This is a handy meditation / mantra aid for times when you'd like something smaller than a full mala. You can still count up to 108 with these bracelet beads - or in multiples of 27 if you prefer. Simply count back and forth over the divider as many rounds as needed. Use the toggle crystals as the guru bead.
The counter bead diameter in this mala bracelet is 0.8 cm (0.3") and the width of the Iolite divider is approx. 1.5 cm (0.6") wide. Whilst the total length of this bracelet, including the toggle, is 22 cm (8.7") it would make a good fit for up to an 7.5" wrist circumference. However, if you prefer a more loose style bracelet, this can happily be worn on a 6.5" wrist as well.
This mala comes in one of my handmade 'vegan leather' (cork) pouches for safe-keeping. Gift-wrapped at no extra charge.

Read more about Spirit Carrier mala beads
CRYSTAL PROPERTIES
WHITE LACE AGATE
Stone of harmony, reminding you to go with the flow. Increases self-esteem, dispelling negativity and fears. Promotes calmness, clarity and balance. Assists in following decisions smoothly to their positive outcomes. Diffuses tension and hardships. Sharpens focus and leads you to new beginnings.
MOONSTONE
Useful for feeling balanced or when changing aspects in one's life. Symbolises 'new beginnings'. Brings calmness through awareness. Provides the energy to sustain you through stages of growth. A highly intuitive stone allowing self expression and creativity to flow. Provides protection while travelling. A bringer of good fortune. Stone of feminine wisdom, inner growth and strength. Calming and soothing stone, enhancing intuition and inspiration. White moonstone is stimulating for psychic perception, vision and dream work.
IOLITE
Aids in making inner visions more vivid, dissolving fear of the unknown. Helps in blending everyday conscious thinking with intuitive inner knowing. Awakens psychic gifts, activating and clearing the third eye. Helps accessing communication from higher vibratory realms. Helps one to act and respond to situations from one's higher guidance.
Recently Viewed