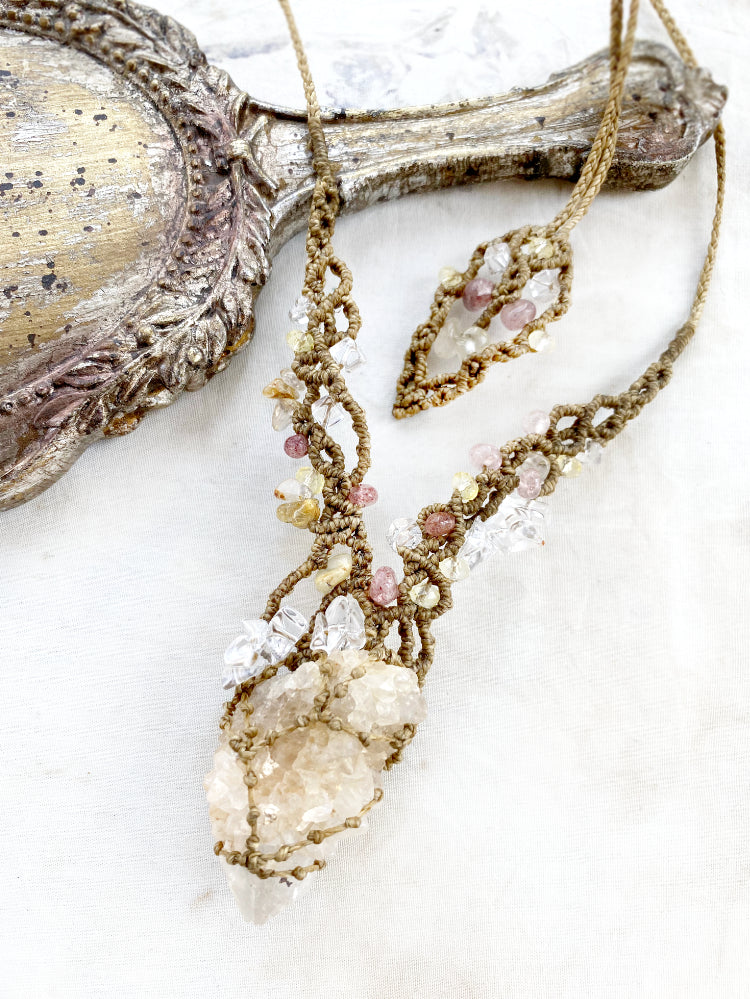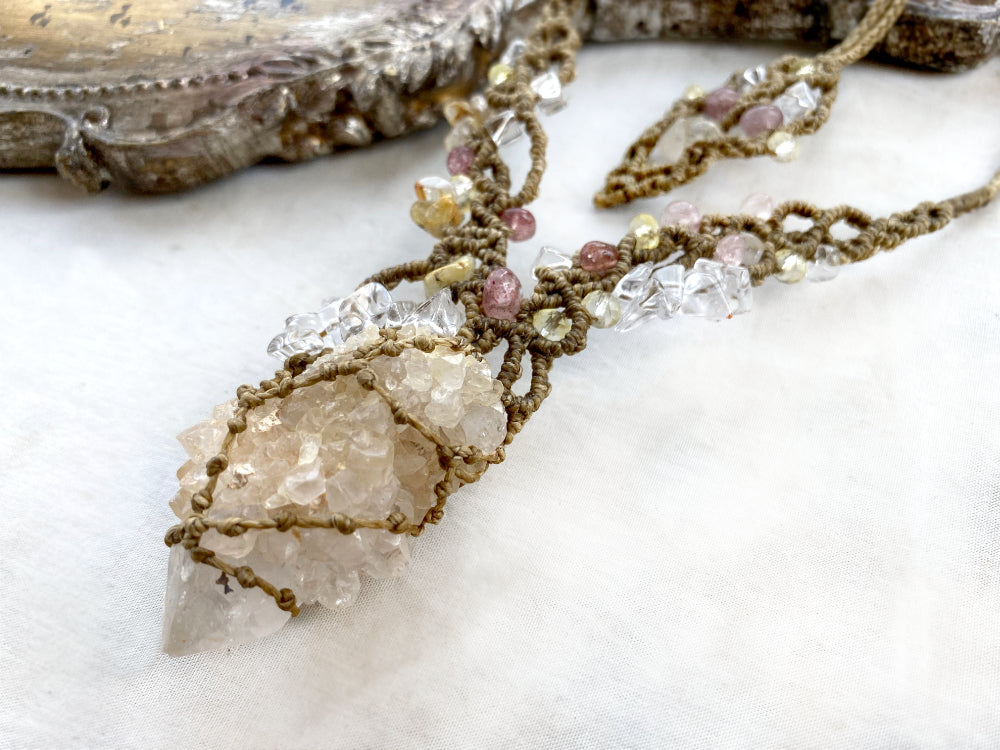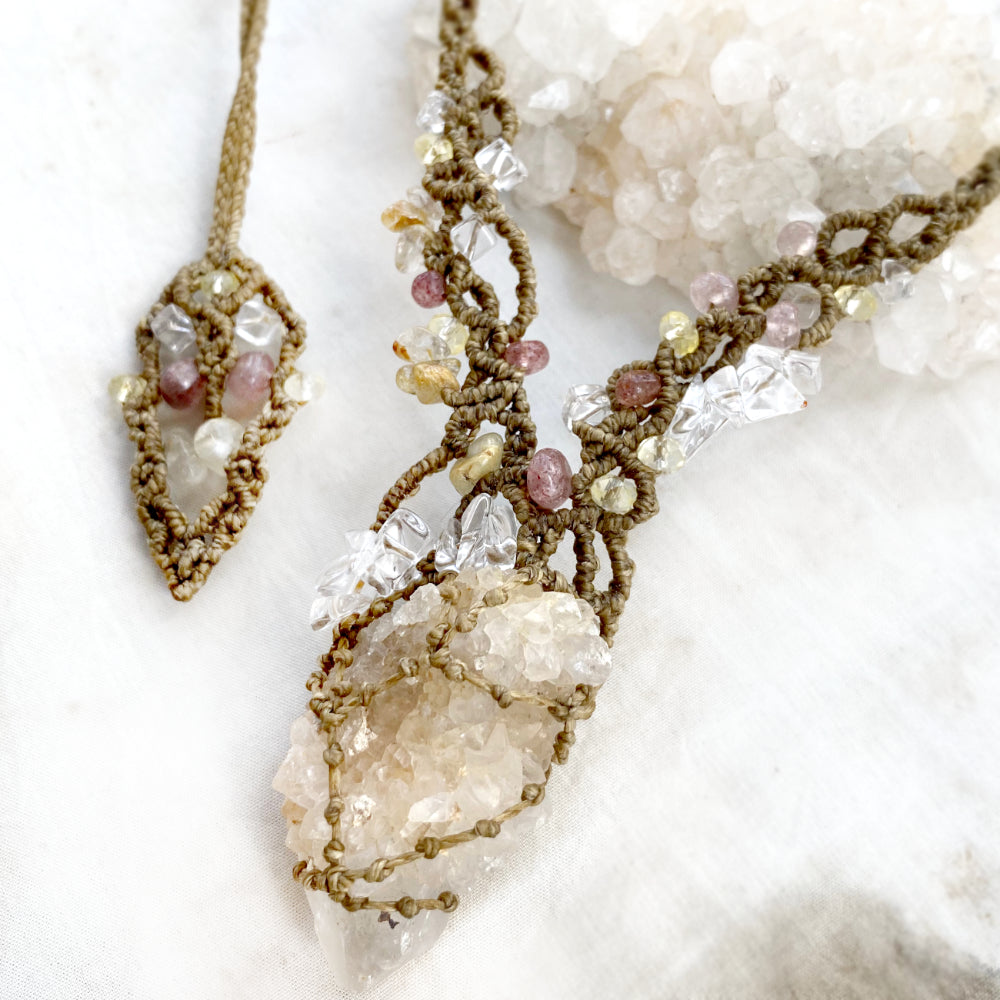 White Spirit Quartz crystal healing amulet
DESCRIPTION
Crystal healing amulet with a chunky, un-drilled white Spirit Quartz point, highlighted with Citrine, Gold Rutile Quartz, Lepidochrosite in Quartz and clear Quartz crystals. The necklace is intricately knotted in an asymmetrical pattern with golden brown micro-macrame cord, strong and durable yet comfortable to wear. There is an intricate, decorative counter weight at the back - this lace-like crystal 'seal' will hang down the back when the necklace is worn. The closer the neck the Spirit Quartz is worn, the lower down the back the 'seal' dangles. This would be a particularly beautiful feature worn with an open back summer dress.
The length of the necklace is adjustable from very short down to solar plexus level. This unique Spirit Quartz is approx. 4.5 cm (1.8") tall, approx. 2.5 cm (1") at its widest and 2 cm (1") thick.
There are no metals in this necklace so would be particularly suitable for those with metal sensitivities, energy workers and those who simply prefer not to wear metal.
You'll receive this crystal healing necklace in one of my fabric draw-string pouches, great for the safe-keeping of the necklace. Gift-wrapped at no extra charge.

Read here how to take care of your crystal jewellery.
CRYSTAL PROPERTIES
SPIRIT QUARTZ
Only found in South Africa. Radiates a very high, strong vibration with its many tiny crystals that grow on a central stone - all working together in harmony. Helps in releasing peacefully the old from your life that no longer benefits you, whilst creating emotional balance with a view to the future. A wonderful stone to aid spiritual growth and to support your life's work.
LEPIDOCHROSITE IN QUARTZ
Stimulates intuitive spiritual awareness, at the same time gently grounding to Earth energy. Raises consciousness, and can be used for focusing intent during energy healing sessions. Calming and soothing, aids in releasing fears and aligning one with Divine will. A stone of 'allowing' and trusting the flow of life.
GOLD RUTILE QUARTZ
A master assistant in self-discovery, a companion in finding one's inner truth, purpose and destiny. Joyful and energising. Thought to offer protection against psychic attacks and helps in opening up to one's Divine strength. Assists in activating one's creativity and manifesting dreams into reality.
CITRINE
Affects a powerful alignment with the higher self. Balances the emotions and helps in uplifting one's mood to be more sunny and cheerful. Brings clarity of thought, and attracts abundance and prosperity through joy. Powerful transformer in healing work. Increases self-confidence and optimism, cleanses the surrounding energies and promotes creative thinking. Releases, dissipates and transforms denser energies on all levels, mental, emotional and physical. Works to release limitations and blockages particularly around the sacral / solar plexus area.
CLEAR QUARTZ
The universal master crystal that has a harmonising effect on all levels of being. Programmable by intention, so can be used for versatile purposes. Quartz can clear, enhance, amplify, transmute, balance, focus and transmit energy. Raises one's energetic vibration. Brings clarity and filters out distractions. A deep soul cleanser, attuning its keeper to their higher self. Each Quartz crystal is unique with its own character and teachings it offers, all are known as "Stones of Power" and "Master Healers".
Recently Viewed