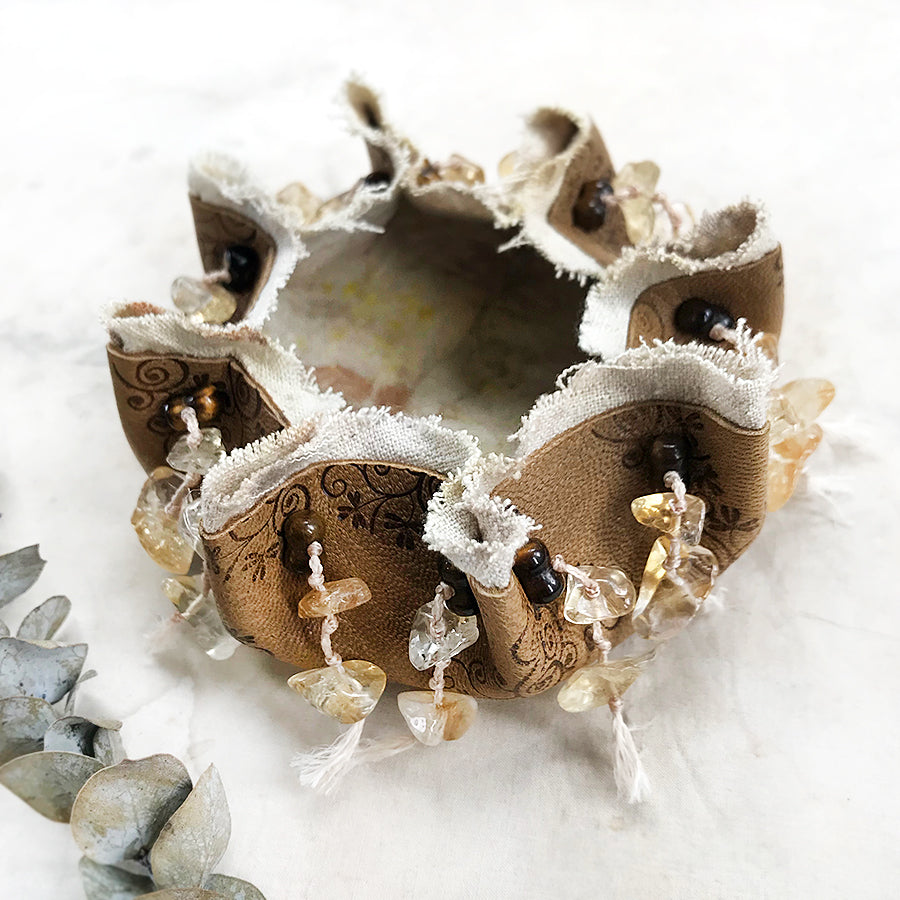 Wisdom keeper leather bowl ~ round shape
DESCRIPTION
Unusual keeper of small treasures, this shamanic 'offering' bowl can hold anything dry: small crystals or pebbles, jewellery / rings, pot pourri / flower petals, manifestation notes, mantras... Perfect treasure holder for a personal altar.
The outer surface of this bowl is vegetable tanned goat hide, archival museum quality leather, decorated with floral embossing (dark markings pressed on the leather with a heated brass tool traditionally used on historical book cover designs). The inner lining of the bowl is pure silk which I have botanically eco-dyed using local plants. The subtle abstract plant colour patterns in the silk give this bowl a warmly organic feel. The crystal details surrounding the outside of the bowl are Tiger Eye and Citrine.

Please be sure to understand the dimensions of this little bowl so that it is useful for your desired purpose -
Outside diameter: 9-10 cm (3.5"-4")
Inner opening: approx. 6 cm (2.4")
Depth: 3.5 cm (1.4")
You'll receive this Wisdom Keeper gift-wrapped at no extra charge.
CRYSTAL PROPERTIES
TIGER EYE
Helpful stone for learning to feel connected to one's personal strength. Excellent stone for attracting prosperity. But it has also a highly spiritual energy and is useful in understanding any life cycle that one is living through. Helps in seeing through illusions and discerning the truth in any situation. A highly protective stone. Good for strengthening the solar plexus (3rd) chakra and developing one's will power and courage.
CITRINE
Affects a powerful alignment with the higher self. Balances the emotions and helps in uplifting one's mood to be more sunny and cheerful. Brings clarity of thought, and attracts abundance and prosperity through joy. Powerful transformer in healing work. Increases self-confidence and optimism, cleanses the surrounding energies and promotes creative thinking. Releases, dissipates and transforms denser energies on all levels, mental, emotional and physical. Works to release limitations and blockages particularly around the sacral / solar plexus area.
Recently Viewed