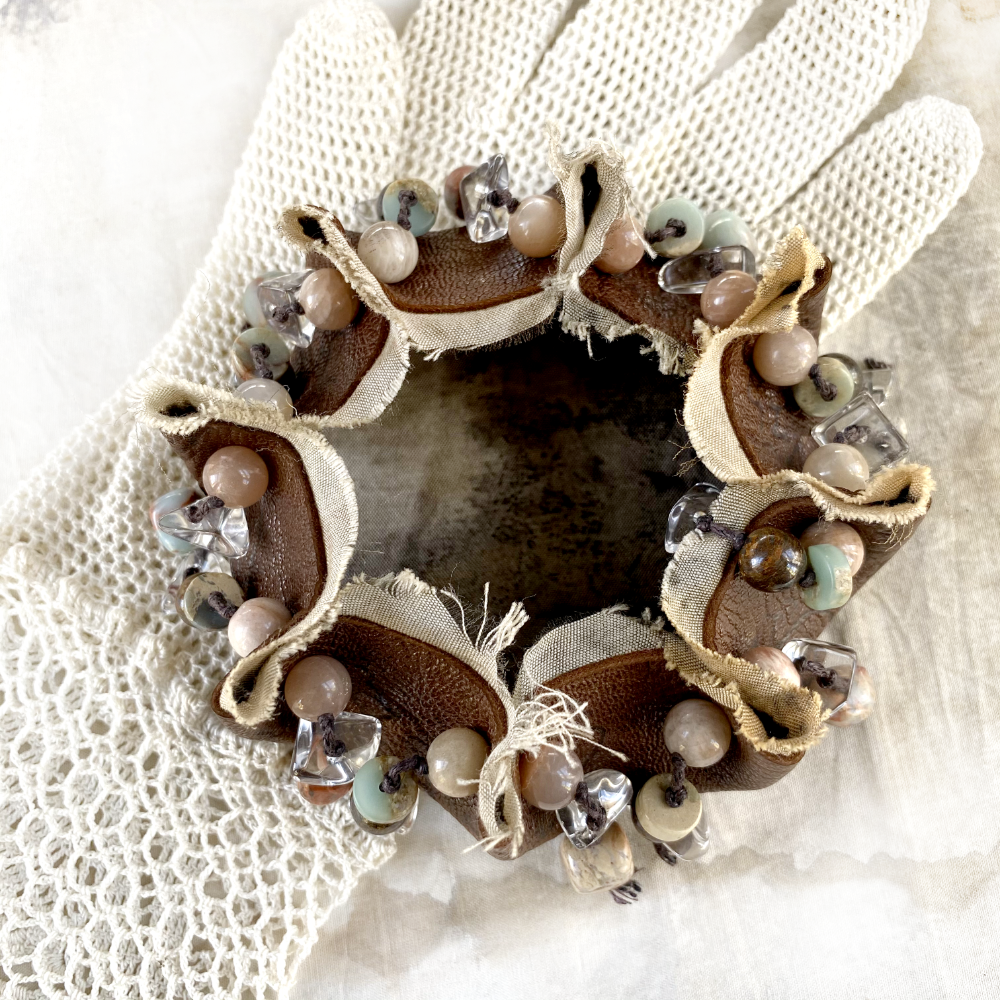 Wisdom keeper leather bowl with silk lining & crystal detailing
DESCRIPTION
Unusual keeper of small treasures, this shamanic 'offering' bowl can hold anything dry: small crystals or pebbles, jewellery / rings, pot pourri / flower petals, manifestation notes, mantras... Perfect treasure holder for a personal altar.
The outer surface of this bowl is vegetable tanned goat hide, archival museum quality leather, decorated with subtle, freeform pyrography lines. The inner lining of the bowl is pure silk which I have botanically eco-dyed using local plants. The subtle abstract patterns left by the plants in the silk lining give this bowl a warmly organic feel. The crystal details surrounding the outside of the bowl are Moonstone, Aqua Terra Jasper and clear Quartz.

Please be sure to understand the dimensions of this little bowl so that it is useful for your desired purpose -
Outside diameter: 9-10 cm (3.5"-4")
Inner opening: approx. 6 cm (2.4")
Depth: 3.5 cm (1.4")
You'll receive this Wisdom Keeper gift-wrapped at no extra charge.
CRYSTAL PROPERTIES
MOONSTONE
Useful for feeling balanced or when changing aspects in one's life. Symbolises 'new beginnings'. Brings calmness through awareness. Provides the energy to sustain you through stages of growth. A highly intuitive stone allowing self expression and creativity to flow. Provides protection while travelling. A bringer of good fortune. Stone of feminine wisdom, inner growth and strength. Calming and soothing stone, enhancing intuition and inspiration. White moonstone is stimulating for psychic perception, vision and dream work.
AQUA TERRA JASPER (aka VARISCITE)
Stone of inner peace and clarity. It has a loving and compassionate vibe. Helps with the alignment of one's 'Light' bodies and assists with emotional healing.
CLEAR QUARTZ
The universal master crystal that has a harmonising effect on all levels of being. Programmable by intention, so can be used for versatile purposes. Quartz can clear, enhance, amplify, transmute, balance, focus and transmit energy. Raises one's energetic vibration. Brings clarity and filters out distractions. A deep soul cleanser, attuning its keeper to their higher self. Each Quartz crystal is unique with its own character and teachings it offers, all are known as "Stones of Power" and "Master Healers".
Recently Viewed