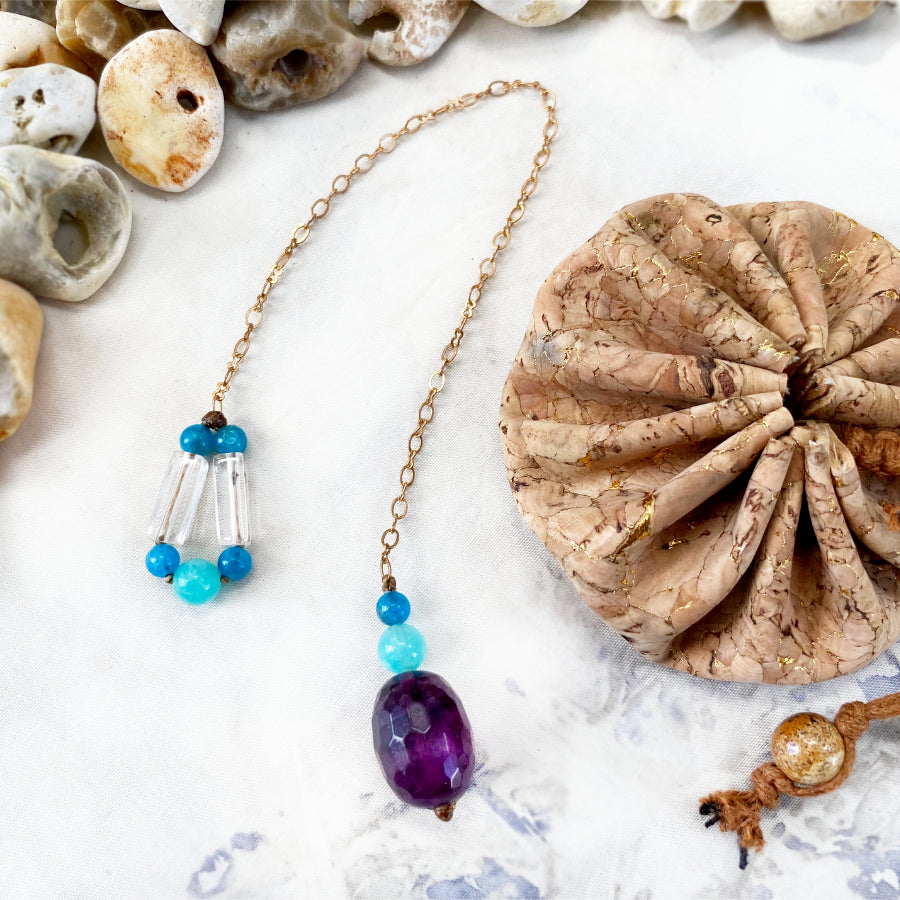 Pendulum with Fluorite, Apatite, Amazonite & Quartz in cork pouch
DESCRIPTION
Unique and unusual crystal pendulum dowser combining four different crystal types  - Fluorite, Apatite and Amazonite as the swinging pendulum part with a handle of Quartz, Apatite and Amazonite. No other pendulum is identical to this. Perfect if you're looking for an original, personal pendulum to connect with your own energy for maximum results. 
The chain is solid, pure copper which is a great energy conductor. The chain is 16 cm (6") long.
This charming pendulum comes in a specially made cork drawstring pouch with a Picture Jasper bead detailing. When not in use, the pendulum can be stored in this pouch for safekeeping or when taking it along to places. This is a handy small size so that you can easily take it with you wherever you go. The pouch has a diameter of just under 6.5 cm cm (2.5") - measured when empty and closed.
You'll receive this crystal treasure gift-wrapped at no extra charge.
CRYSTAL PROPERTIES

FLUORITE
Excellent for cleansing one's aura, also detaching unwanted energy cords. Grounds excessive energy, beneficial for all levels of healing. Helpful in achieving spiritual wholeness. Protective, stabilising and harmonising stone. Facilitates personal growth. Awareness expanding. Anchors intuitive insights into the physical plane. Offers strong psychic protection, helping to discern energies one comes in contact with. Helps in being objective and focusing on what is essential. Also known as absorbing environmental EMF.
AMAZONITE
A stone of self-respect, confidence and grace. Soothes the spirit and calms the soul. Alleviates feelings of loneliness. Assists in connecting with one's intuition, enhancing creativity and self-expression. Empowers to move beyond fear, easing particularly fears relating to other people - fear of judgement, fear of confrontation. Helps with living in alignment with your truth, supporting matters of communication. Good luck stone for competitions, business and financial affairs.
APATITE
Enhances one's insight, creativity and imagination, and gives increased self-confidence. Connects to high level of spiritual guidance and is helpful in letting go of anything that no longer serves your highest good. Helpful in bringing one's vision into reality and overcoming difficulties. Useful for energy workers, helping to maintain a clear energy field and balanced focus. Apatite crystal is also said to be a good aid in curbing one's appetite!
CLEAR QUARTZ
The universal master crystal that has a harmonising effect on all levels of being. Programmable by intention, so can be used for versatile purposes. Quartz can clear, enhance, amplify, transmute, balance, focus and transmit energy. Raises one's energetic vibration. Brings clarity and filters out distractions. A deep soul cleanser, attuning its keeper to their higher self. Each Quartz crystal is unique with its own character and teachings it offers, all are known as "Stones of Power" and "Master Healers".
Recently Viewed