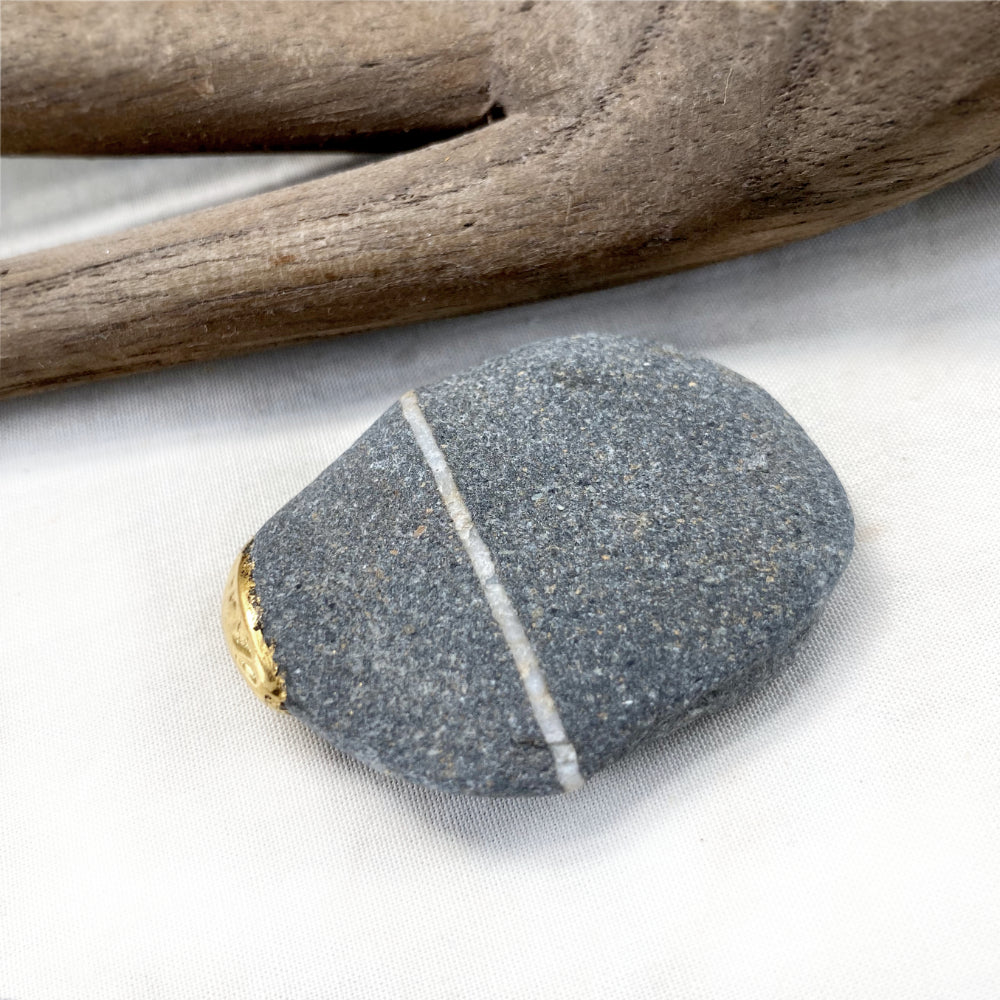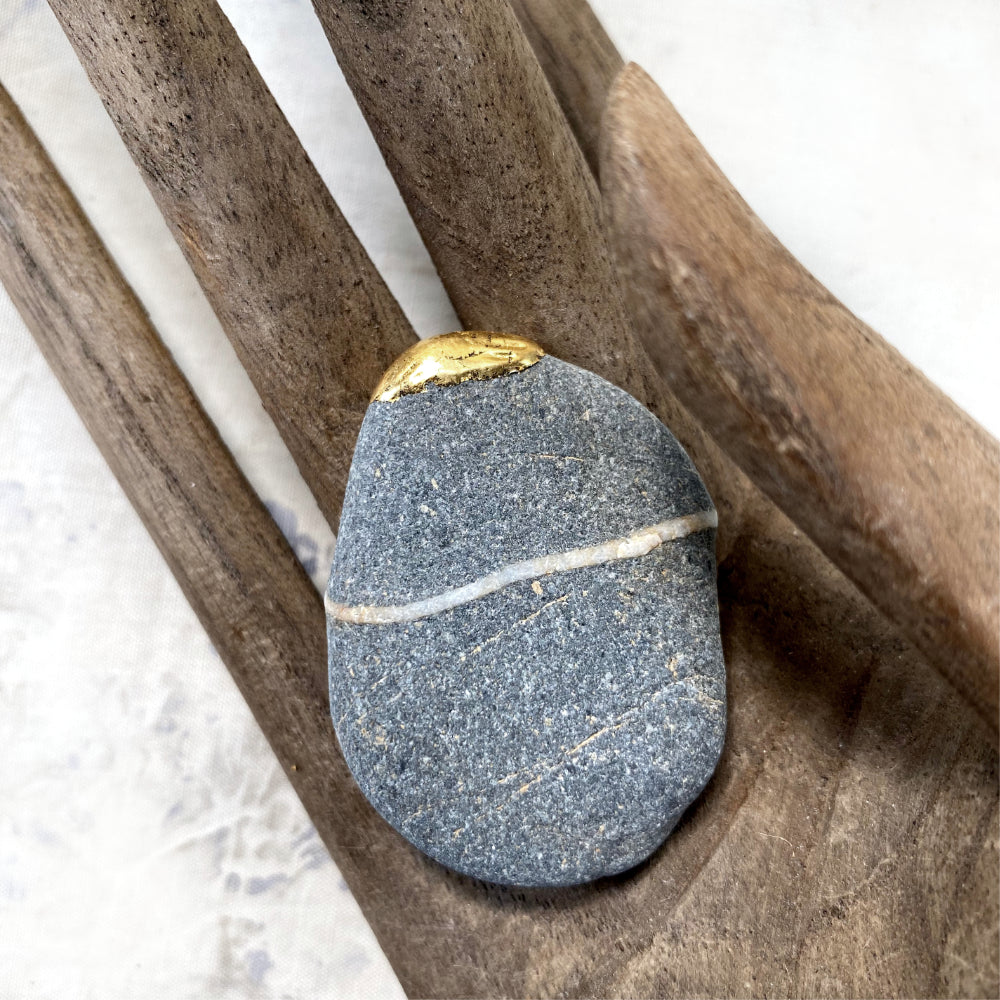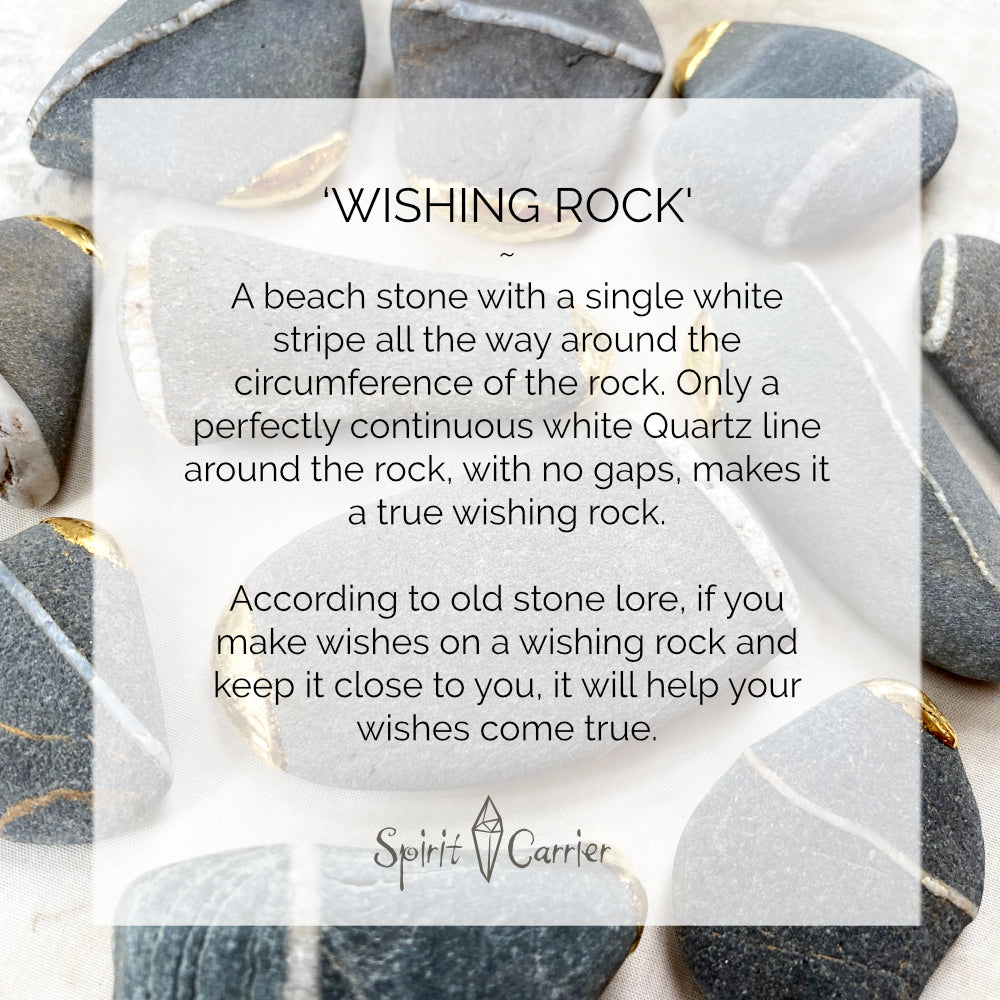 'Wishing Rock' ~ sea-tumbled Shale stone with genuine 24ct gold leaf
A natural sea-tumbled Shale pebble, with one single Quartz vein creating a circle around the pebble, making this a 'Wishing Rock'. Smooth and tactile to handle. The pebble is further elevated with a spot of genuine 24 carat gold to create a tiny treasure for your collection.
This would be perfect as a talismanic aid for what you most wish for, to hold energy for a dream or a wish to come true. You dedicate the stone to your chosen wish through your intention, and can then use it as a focus aid, keep it close, and include it in meditation or as part of a crystal grid.

This Shale pebble is just under 4.5 cm (1.8") at its longest dimension.

Please note that pure 24ct gold is not as hard as gold that has impurities (small amounts of other metals included) so it is advisable not to rub the gold with anything scratchy.
You'll receive this Wishing Rock gift-wrapped at no extra charge.
~

SHALE
Soothing tool when wanting to change how you feel, making it easier to let go of stress, sadness or anxiety. Helpful when wanting to expand your horizons, to have a go at different things, try something new. Opens up possibilities and a bigger future. Enhances creativity and productivity. Supports you in perseverance to accomplish things. Assists your intuition in guiding you away from what isn't good for you and directs towards positive outcomes.
GOLD
Symbol of eternity and spiritual purification. Associated with the Sun and its life giving shine. Pure 24 carat gold that is not alloyed with other metals strengthens the energy of crystals that it is combined with and has a healing effect on their energy. (Other metals combined with pure soft 24 carat gold for hardening purposes change its energy and vibration, thus lessening its effectiveness.)




Recently Viewed