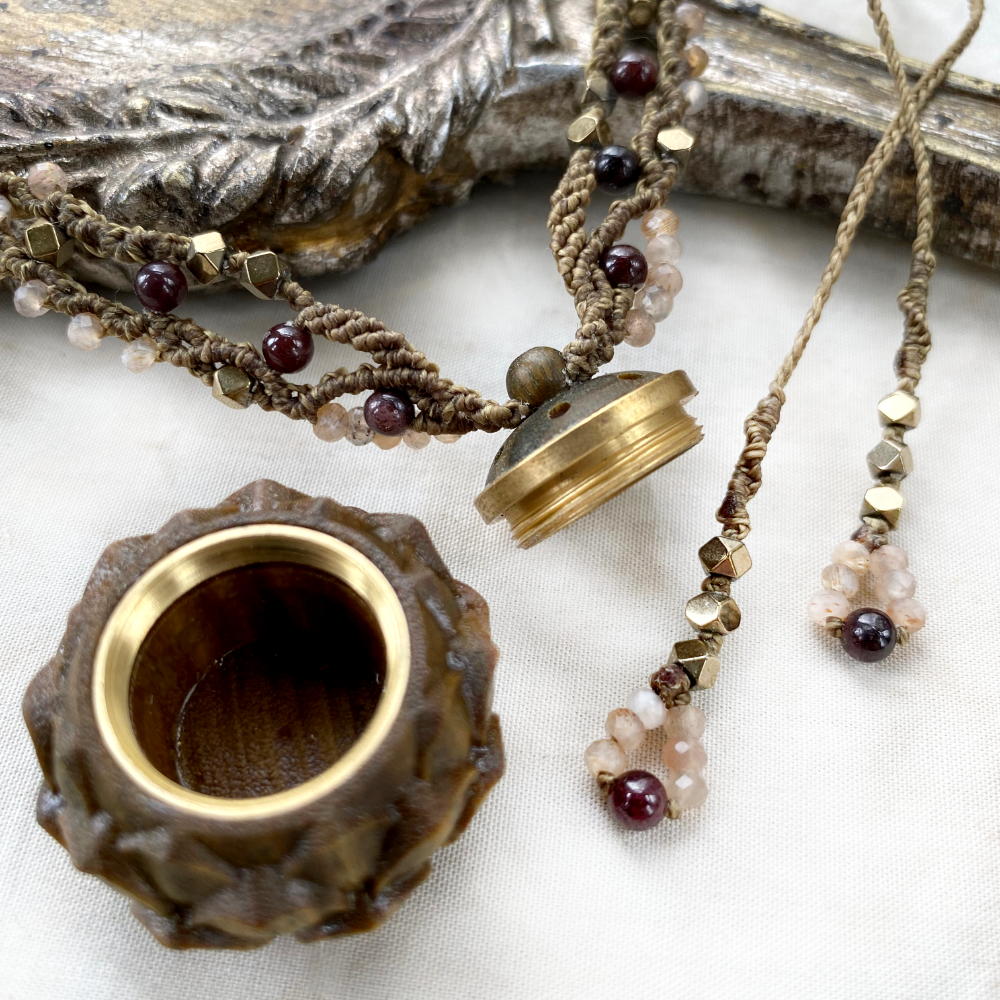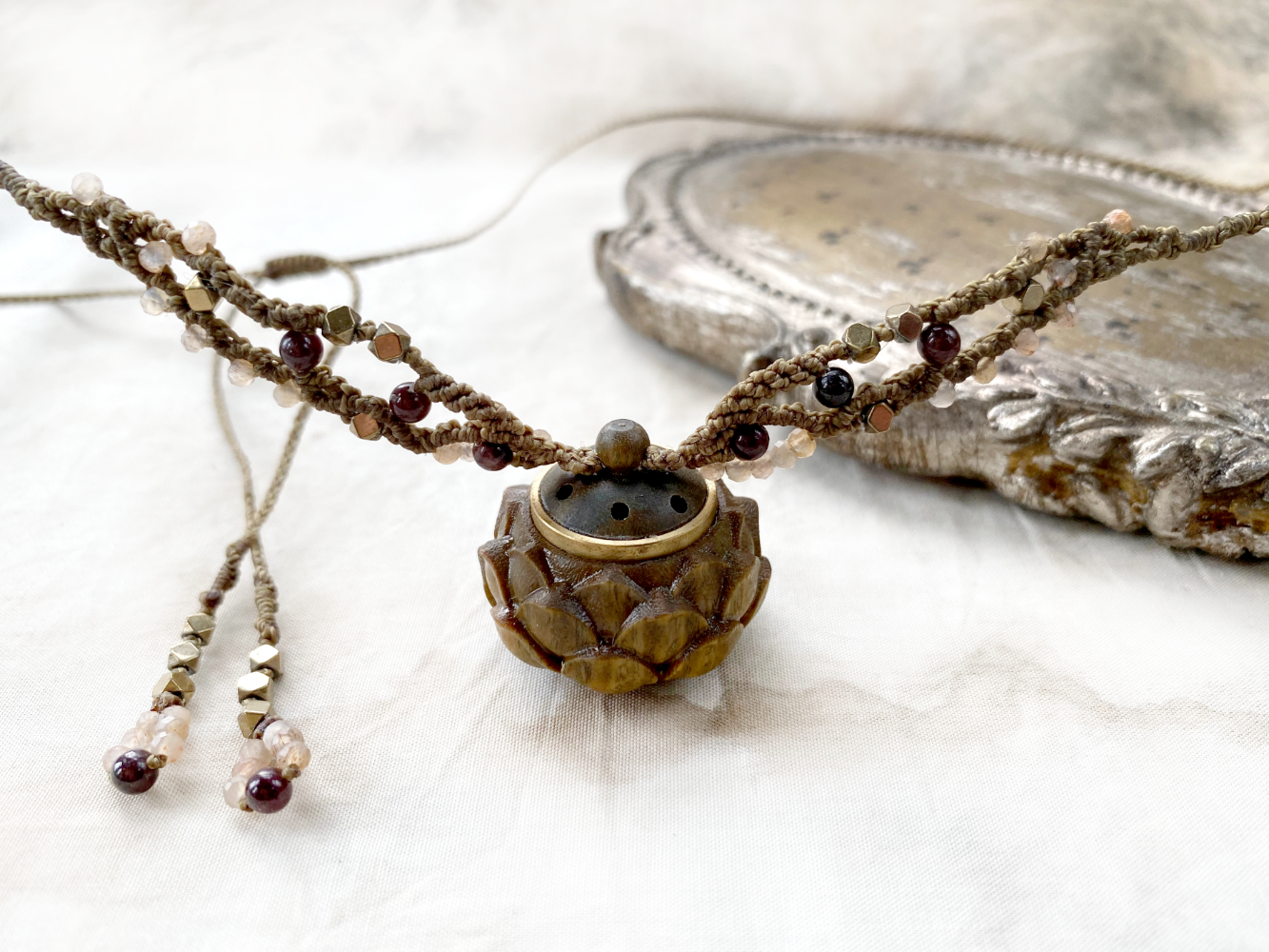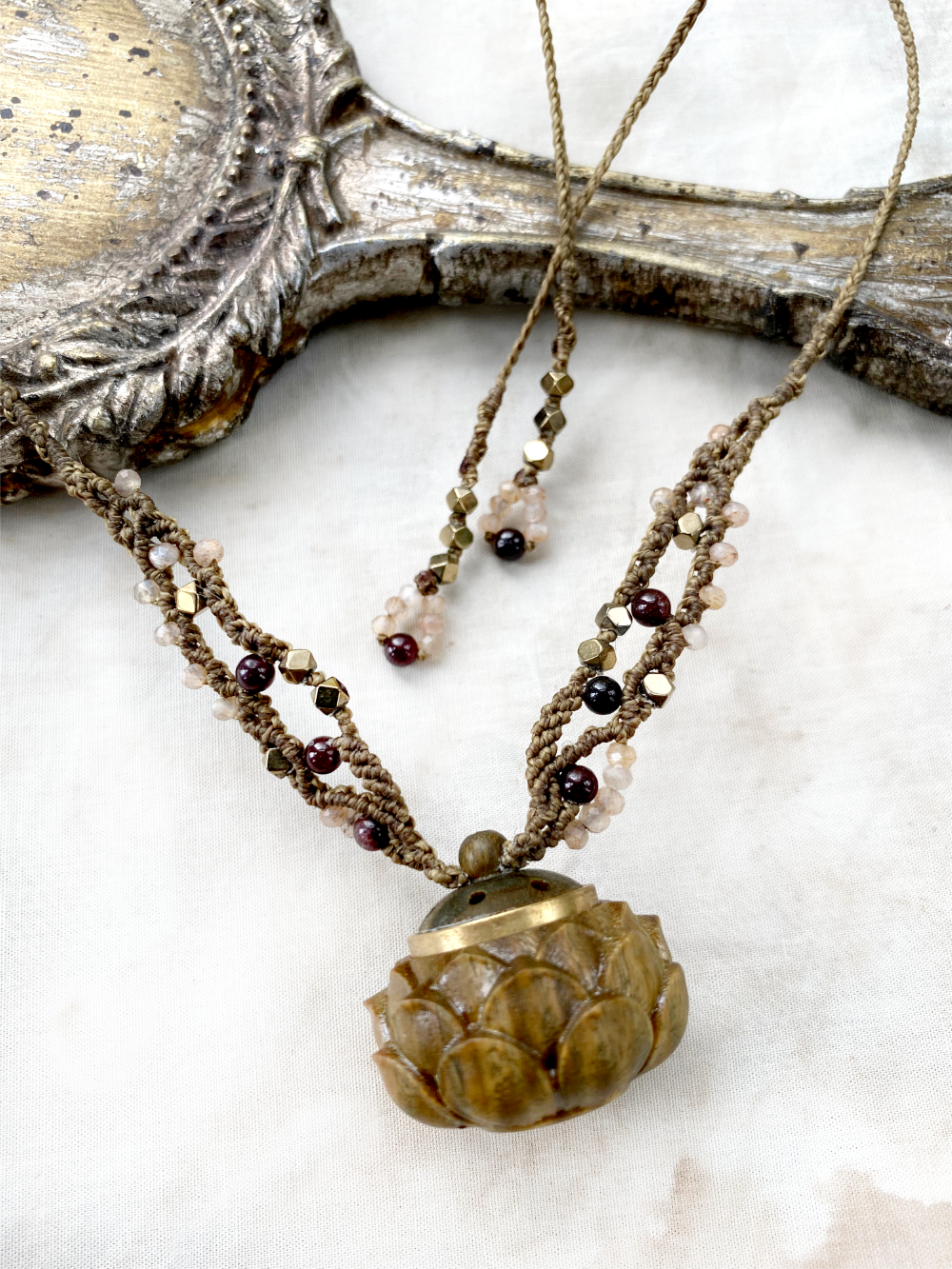 Treasure vessel amulet
DESCRIPTION
Crystal healing amulet with a small, intricately carved wooden container as the main pendant piece. The necklace is intricately knotted with earthy greenish brown micro-macrame cord. The highlighting crystals within the knotwork and the braid ends are faceted Moonstone in soft peach hue, gold-plated Hematite and Almandine Garnet. Because the lid includes holes through the wood, this is not suitable for liquids. You can choose to carry any other tiny treasure inside, such as a folded piece of paper with your affirmation written on, some dried herbs or a small crystal.

Please note in case you have metal allergy: there is also a small brass part around the rim of the lid in this container.

The necklace has a knotted channel through which you can pull the braided cords to change the length and have the vessel hang at your desired level. The container has a base diameter of just under 3 cm (1") and with the lid, is approx. 2 cm (0.8") tall. When the lid is off, the opening diameter to the inside space is 1.5 cm (0.6") and the depth of the inner area is approx. 1.3 cm (0.5").
You'll receive this vessel necklace in one of Spirit Carrier's fabric draw-string pouches, great for the safe-keeping of the necklace. Gift-wrapped at no extra charge.

Read here how to take care of your crystal jewellery.
CRYSTAL PROPERTIES
MOONSTONE
Useful for feeling balanced or when changing aspects in one's life. Symbolises 'new beginnings'. Brings calmness through awareness. Provides the energy to sustain you through stages of growth. A highly intuitive stone allowing self expression and creativity to flow. Provides protection while travelling. A bringer of good fortune. Stone of feminine wisdom, inner growth and strength. Calming and soothing stone, enhancing intuition and inspiration. White moonstone is stimulating for psychic perception, vision and dream work.
ALMANDINE GARNET
Stimulates one's life force. Supports the root chakra while drawing earth energy into the body, helping you to feel secure and centred. Awakens the "inner fire" of creativity. Highly protective stone and a great companion to keep you energised. Excellent good fortune and 'success' stone in both social and career ventures, adding positive vibes both in your personal or business life. Stone of purification and cleansing. Symbolises passionate, devoted love.

HEMATITE
Creates a strong sense of self and enhances the creative flow. Relieves stress. Revitalises, enhancing personal magnetism and optimism. Helps in releasing self-imposed limitations to find your own unique gifts. A stone of balance and equilibrium. Grounds when feeling scattered, allows one to maintain a natural alertness while remaining calm.
Recently Viewed