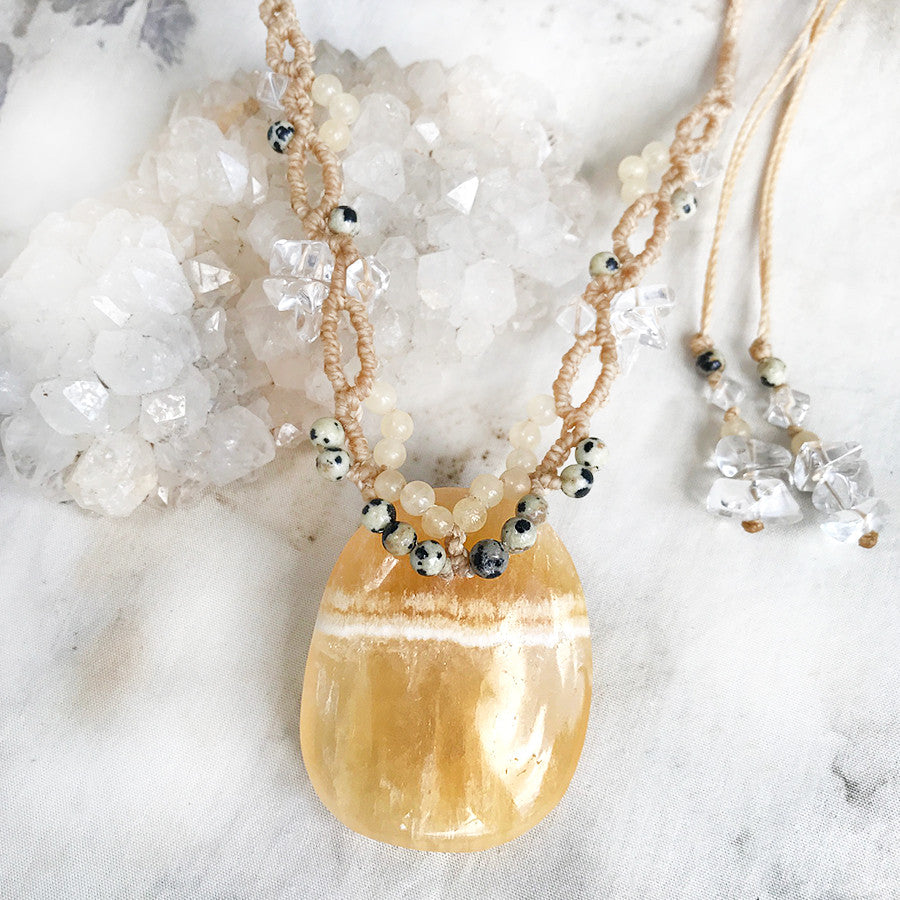 Yellow Calcite crystal healing amulet
DESCRIPTION
Crystal healing amulet with smooth oval shaped Yellow Calcite. There is a natural vein of Quartz running through the top part of the stone, looking quite like white lace. The necklace is intricately knotted and braided with pale yellowy beige micro-macrame cord, and highlighted with Dalmatian Jasper and clear Quartz crystals. 
The length of the necklace is adjustable from very short down to solar plexus level. The Yellow Calcite is just over 4 cm (1.6") tall and about 3.5 cm (1.4") at its widest.
There are no metals in this necklace so would be particularly suitable for those with metal sensitivities, energy workers and those who simply prefer not to wear metal.
You'll receive this crystal healing necklace in one of my fabric draw-string pouches, great for the safe-keeping of the necklace. Gift-wrapped at no extra charge.

Read here how to take care of your crystal jewellery.
CRYSTAL PROPERTIES
YELLOW CALCITE
Associated with self-confidence, inner strength and hope. Effective in helping to clear away old outworn energy patterns and increasing personal motivation and drive. Helps in releasing self-doubt. Assists in learning new things quickly, increasing memory.
DALMATIAN JASPER
Helps in removing barriers that prevent you from moving forward in life, and to discover your true purpose of being in the world. Brings joy and playfulness into one's life. The black spots in this stone are Black Tourmaline, which adds to this stone's protective qualities.
CLEAR QUARTZ
The universal master crystal that has a harmonising effect on all levels of being. Programmable by intention, so can be used for versatile purposes. Quartz can clear, enhance, amplify, transmute, balance, focus and transmit energy. Raises one's energetic vibration. Brings clarity and filters out distractions. A deep soul cleanser, attuning its keeper to their higher self. Each Quartz crystal is unique with its own character and teachings it offers, all are known as "Stones of Power" and "Master Healers".
Recently Viewed