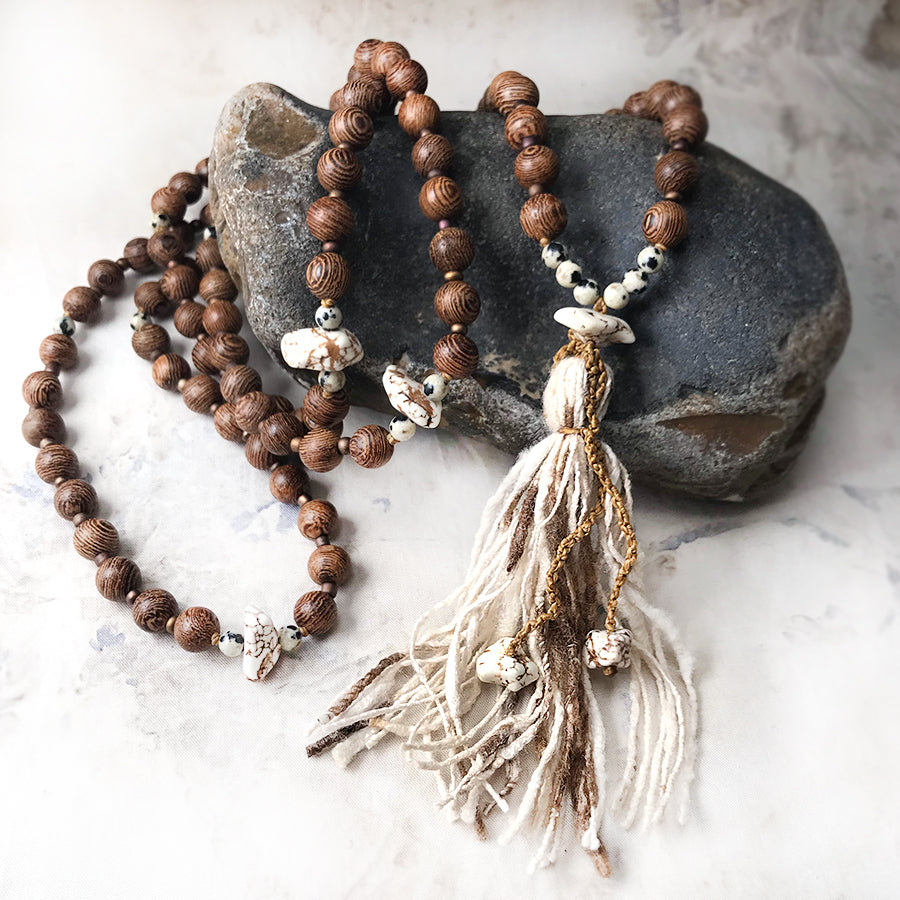 Zebrawood meditation mala with peace silk tassel
DESCRIPTION
One of a kind, contemporary 108 bead meditation mala with zebrawood counter beads. The three dividers are a combination of Magnesite and Dalmatian Jasper. The guru bead consists of a tassel made of organic peace silk combined with short knotted strands ending in Magnesite beads. Zebrawood has a very feminine energy to it, symbolising creativity, wisdom, love and luck.
The wooden counter beads are spaced with matte brown glass seed beads, and knotted with golden brown micro-macrame cord at every nine bead interval around a small Dalmatian Jasper bead. This mala is very light in weight and has a warm, 'flowing' feel, with the wooden beads softly following the contours of your hand when handled.
All around length of mala: 114 cm (44.8") 
Counter bead diameter: 0.8 cm (0.3") 
The width of the divider combination: up to 1.5 cm (0.6") 
Length of guru bead & tassel combination: 8 cm (3")
This mala comes in one of my handmade soft leather pouches for safe-keeping. If you would rather have a fabric pouch, please let me know at the time of purchase. 
You'll receive this mala gift-wrapped at no extra charge.

Read more about Spirit Carrier mala beads
CRYSTAL PROPERTIES
MAGNESITE
Opens up higher realms and states of consciousness, bringing visions and emotional balance. Assists in hearing your heart's desires. High ascension stone that awakens one to spiritual growth. Offers the gift of direct knowing by opening the third eye and crown chakras. Has the potential to create blissful changes in one's life.
DALMATIAN JASPER
Helps in removing barriers that prevent you from moving forward in life, and to discover your true purpose of being in the world. Brings joy and playfulness into one's life. The black spots in this stone are Black Tourmaline, which adds to this stone's protective qualities.
Recently Viewed